Are you following the FOREX.com Research Team on Twitter?  If not, you are missing up to the minute updates about market moves, insight in to what, when, why, and where of market moves, as well as links to easily accessible published material as soon as it is finished.  Just in case you missed some of our most popular tweets of the week, here's a Top 5 countdown to catch you up to speed.
5.  (tie) 16 RETWEETS AND 7 FAVORITES = 23 ACTIONS
https://twitter.com/FOREXcom/status/601015698014478336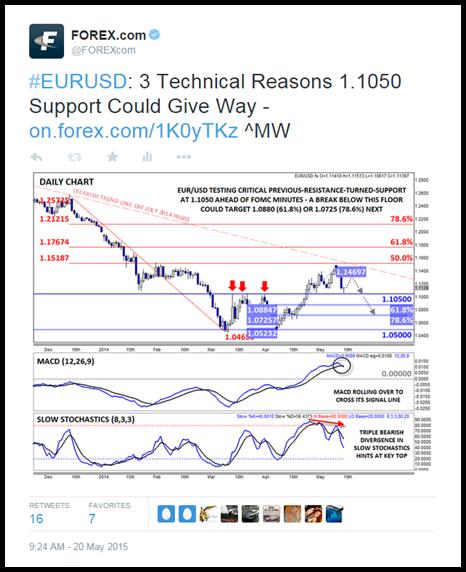 This was a pretty popular week on Twitter for us here at FOREX.com as we witnessed more retweets and favorites than usual.  For that reason, some of the tweets that would normally be at the top of our rankings are near the bottom, as is the case with Matt Weller's link to his EUR/USD article mid- week.  As it turned out, 1.1050 did give way this morning thanks to some encouraging CPI numbers out of the US as well as Federal Reserve Chairwoman Janet Yellen speaking positively about the US economy in a speech this afternoon.  How much further will it go?  If Matt's image is any indication, 1.0885 or below looks to be in reach.
5.  (tie) 16 RETWEETS AND 7 FAVORITES = 23 ACTIONS
https://twitter.com/FOREXcom/status/600535618016317440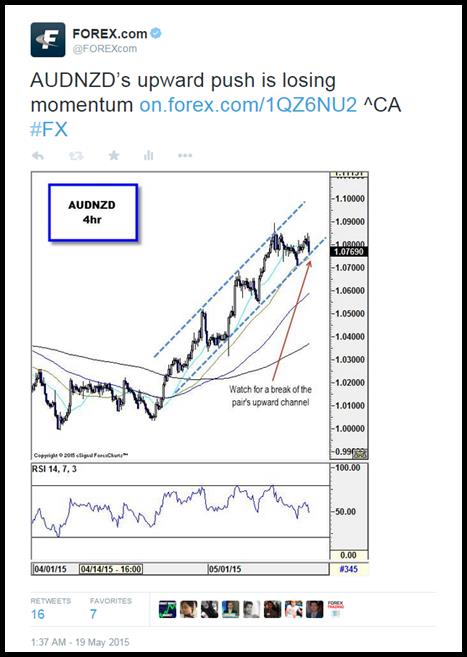 Tying Matt for the number five spot is our favorite Australian analyst, Chris Tedder, who pointed out the faltering channel in the AUD/NZD.  The currency pair had previously been one of the most consistently rising performers in the currency realm, but almost as soon as people started paying attention, it started having a tough go of it.  As we head toward the end of the month, it will be intersting to see which currency's central bank will devalue its currency more.
4.  18 RETWEETS AND 8 FAVORITES = 26 ACTIONS
https://twitter.com/FOREXcom/status/600281927627710464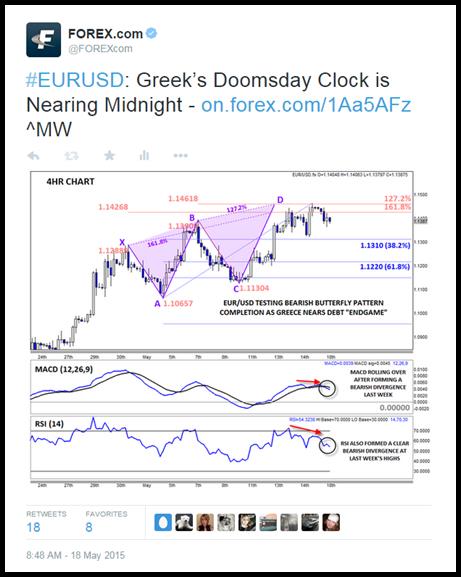 It's almost a rule for FOREX.com tweets that if you put a hashtag on EUR/USD, you are bound to get some attention.  Such is the case for Matt who tweeted out a link to his article early in the week, the first of 2 EUR/USD articles he wrote this week.  The bearish butterfly pattern he illustrated worked its magic and the currency pair was down near 1.10 by the end of the week.
3.  25 RETWEETS AND 15 FAVORITES = 40 ACTIONS
https://twitter.com/FOREXcom/status/600400269420175360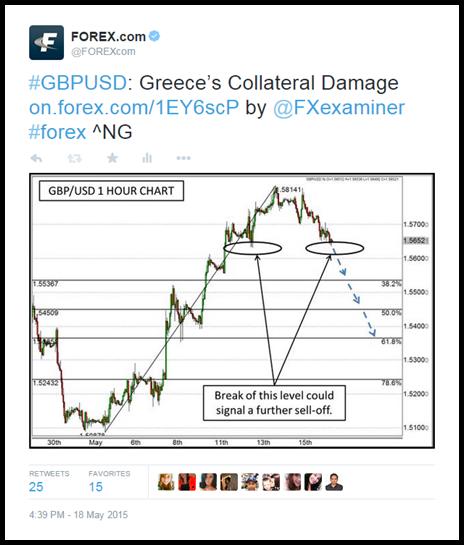 Neal Gilbert took some time off this week to prepare for a move to a new house, but his tweet from early in the week was moving as well!  While Greece didn't quite have the negative headlines this week that would typically propel the EUR and GBP lower, they fell anyway and Neal's suggestion that the GBP/USD might find support near Fibonacci levels rung true as it dropped all the way to 1.5450 before bouncing.  Considering the inflationary help CPI provided this morning, the 61.8% retracement may be achieved early next week.
2.  31 RETWEETS AND 12 FAVORITES = 43 ACTIONS
https://twitter.com/FOREXcom/status/600654451867787264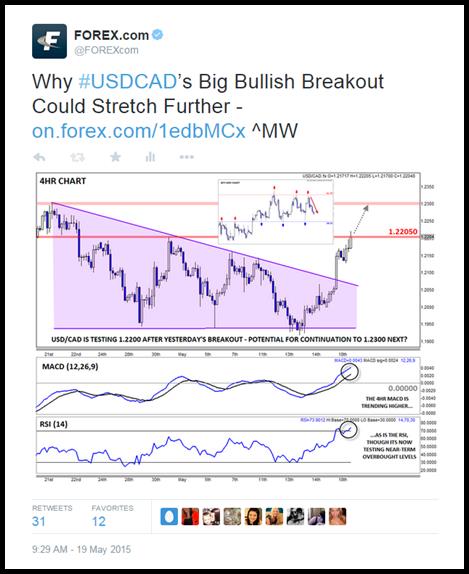 Who'd have thought that the USD/CAD could be such a popular subject?  Evidently Matt did as this tweet linking to his article garnered a lot of attention.  The question he posed at the bottom of the chart ended up being a rhetorical as the currency pair appears destined to finish the week north of the 1.23 mark.  The big question as we head in to next week will be if the USD can maintain during the holiday shortened duration.
1.  30 RETWEETS AND 17 FAVORITES = 47 ACTIONS
https://twitter.com/FOREXcom/status/600967038002143232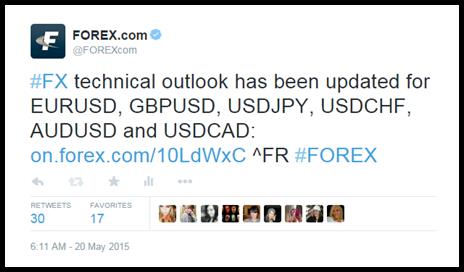 Finally making an appearance on our countdown, Fawad Razaqzada had the most popular tweet of the week.  One of the more useful features of the FOREX.com website is Fawad's technical outlook, which is updated periodically throughout the week.  Judging by the amount of retweets and favorites for his mention of it this week, it appears the @FOREXcom Twitter followers are well aware of the update and appreciate it in kind.
Did one of your favorite Tweets or Tweeters not make the cut this week?  You can have an influence by making it a FAVORITE or RETWEETING it and sharing it with the world.  Every little bit counts, and maybe you will be the difference maker in next week's results!
For more intraday analysis and trade ideas, follow us on twitter (@FOREXcom).