It's been a relatively quiet start to the week in Asia, at least when compared with all the action in the North American session on Friday. Fed Chair Yellen stated on Friday, in prepared remarks for a speech in Rhode Island, that she expected the central bank to raise interest rates this year as the US economy bounces back from a slothful start to the year. This resulted in a push towards the US dollar as the market brought forward its tightening expectations.
Extract from Yellen's prepared remarks:
• "… if the economy continues to improve as I expect, I think it will be appropriate at some point this year to take the initial step to raise the federal funds rate target"
The US dollar has strengthened even more in Asia, with USDJPY breaking resistance around 121.60. It's worth noting that we're expecting some thin conditions in the market today, with German, French, UK and US markets offline; thin markets can create somewhat unpredictable and volatile price action.
The only headline piece of economic data out of Asia this morning comes from Japan. A stronger than expected performance from exporters last month helped to prevent a massive blowout in Japan's April trade balance. The market was expecting Japan to book a trade deficit of 351.1bn yen, after registering a revised 227.4bn surplus in the prior month – Japan's first monthly surplus since June 2012. Yet, an 8.0% y/y rise in exports (expected 6.0%) helped to keep the deficit to a modest 53.4bn yen.
The other side of the trade equation in Japan is much more concerning. Imports fell 4.2% y/y last month, missing an expected 1.1% fall. While this is a significant improvement over the prior month's 14.5% y/y decline in imports, it still highlights some weakness in Japanese domestic demand. This may be why the yen is softening on the back of today's trade numbers.
USDJPY
USDJPY is now very near an important long-term resistance zone around 122.00, its highest level since 2007. While we think USDJPY may not have the legs to break through this level in these thin market conditions, there's a lot happening this week that could move either currency – US core durable goods, consumer confidence and GDP data, as well speeches from Fisher and Lacker and Japanese CPI numbers. Above 122.00, the next key levels for price are around 124.15 and then 125.80.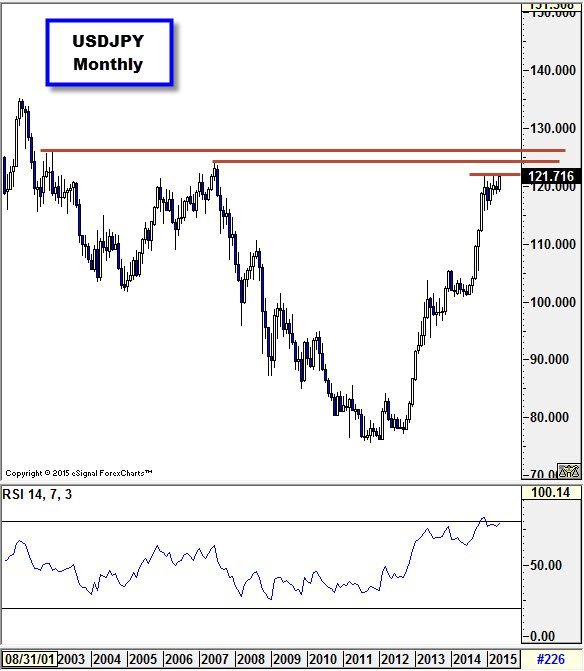 Source: FOREX.com