Thin market conditions and a lack of mark moving economic data and events have kept NZDUSD fairly closely pinned to 0.7300 in Asia. We're expecting more of the same conditions tonight with market closures in Germany, France, Switzerland, the UK and US. This may keep NZDUSD within a fairly tight range for the time being, although thin markets are notoriously unpredictable.
The US dollar was propelled higher at the end of last week by some hawkish comments from Fed Chair Yellen (see: Japan's mixed trade numbers and Yellen lift USDJPY), which helped push NZDUSD to its current trading range around 0.7300. Apart from the dollar strength story, there was also weakness on the NZ dollar side of the equation last week which helped push NZDUSD lower, largely due to soft dairy auction results and news that the NZ government is placing new curbs on the residential property market.
• The NZ government announcement plans at the beginning of last week to tax residential property at a rate of up to 33% if sold within two years. This tax is designed to cool property prices in Auckland which have been a major point of concern for the government and the central bank. If this tax is successful in deterring people from speculating in Auckland's property market, it would free up the central bank to loosen monetary policy to support the broader economy, keeping in mind the RBNZ has already announced plans to introduce lending restrictions for Auckland's overheated property market while introducing a dovish bias on rates.
Tomorrow, NZ releases trade balance figures for April. A trade surplus of 631m in March is expected to have fallen to only 98m last month due to a drop-off in exports. Imports are also expected to have tapered off in April, but not by as much. Being a heavily commodity-based currency, the kiwi is heavily susceptible to misses, both to the upside and downside, in trade numbers; the health of the export market (offshore demand for NZ products) and importers (a gauge of domestic demand) have direct implications for the health of the broader economy.
Techs: NZDUSD
From a technical perspective, it looks like NZDUSD may be attempting to carve out a bottom around 0.7300. There is bullish divergence between price and RSI on numerous time frames and between 0.7200-0.7300 bulls have recently retaken control of price on numerous occasions. Also, NZDUSD was only prevented from breaking through resistance around 0.7400 by an unexpected drive towards the US dollar and no major support zones have been broken. Overall, our bias is higher in the medium-term above 0.7200.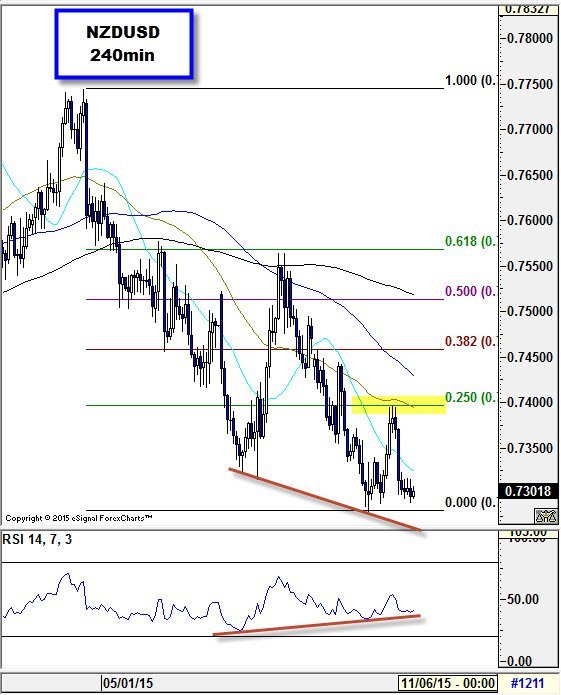 Source: FOREX.com