The Asia session has begun with a push towards the US dollar as the market struggles with a lack of fresh guidance. The movements in Asia have been centred on USDJPY and the pair is now testing an important resistance zone around 121.80. This has helped drive NZDJPY higher, despite a small sell-off in NZDUSD.
NZ released trade figures for April showing the largest twelve-month trade deficit in six years, but it wasn't as negative as the market was expecting. The annual trade deficit was 2,624m, beating an expected deficit of 2,778m. The monthly trade surplus was slightly better than expected at 123m (expected 98m), with exports and imports rising 4.17bn and 4.04bn respectively. However, both sides of the trade balance came in slightly below expectations, raising some concerns about the health of domestic demand and the negative implications for trade exposed sectors of falling commodity prices, which is offsetting a rise in dairy exports.
The kiwi initially had a positive reaction to the data which showed an increase of 1.2% in the quantity of dairy exports. However, NZDUSD was soon overcome by the aforementioned widespread US dollar strength. Nonetheless, the jump in the kiwi was still felt against some other currencies, including the yen.
NZDJPY is now testing the top of its short-term trend (see chart), a beak of which may see price test the top of its medium-term upward channel which corresponds with the pair's 200-day SMA. The top of the pair's short-term channel corresponds with a resistance zone around 89.00, which has provided some stiff resistance this week amid thin market conditions. We need to see a break here before turning bullish on this pair, with most techs siting in neutral territory at the moment.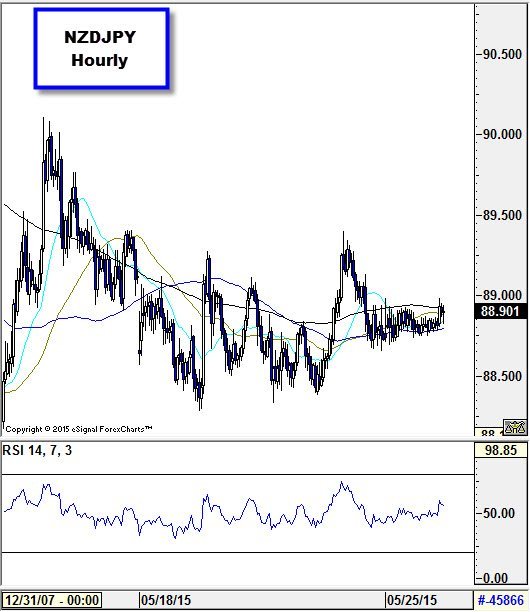 Source: FOREX.com