It has been a very quiet afternoon in Asia due to a lack of market moving events and economic data. Things should begin to heat up tonight with the release of important US economic data. The deluge begins with the release of durable goods orders numbers, followed by services PMI, consumer confidence and new home sales figures. The data will help to shed more light on the US economic recovery and either add too or erode the recent push towards the US dollar that was sparked by Yellen's hawkish comments on Friday.
Meanwhile, the Australian dollar is eagerly awaiting the release of private capital expenditure numbers for Q1 (Thursday at 1130AEST). CAPEX is expected to have contracted 2.2% last quarter, matching a fall in Q4 2014. The ABS also releases the second estimate for investment intentions in 2015-2016 and the final estimate for 2014-2015. Diminishing mining investment and a lack of activity in non-resource parts of the economy is weighing on corporate investment intentions. Estimate 2 for 2015-2016 should show a slight improvement from estimate 1, around 10 (E1 was 110bn), but be well below the same estimate from 2014-2015.
An even softer than expected reading may weigh heavily on the Australian dollar and increase the chance of another rate cut by the RBA. While the RBA isn't expecting much from the mining sector, it is expecting non-resource parts of the economy to pick up the slack, at least at some point. The longer business confidence and investment intentions remain depressed, the longer the RBA must maintain an accommodative stance on monetary policy. On the other side of the equation, the quicker the economy recovers, the sooner the RBA can withdraw stimulus, either way the dollar is very vulnerable to the CAPEX numbers.
AUDUSD
AUDUSD is looking somewhat weak from a technical perspective and remains in a short-term downward trend. There's some support around 0.7800 and then 0.7690/0.7700, before an all-important support zone around 0.7535. On the upside, we're watching the top of the pair's downward trend and then 0.8000.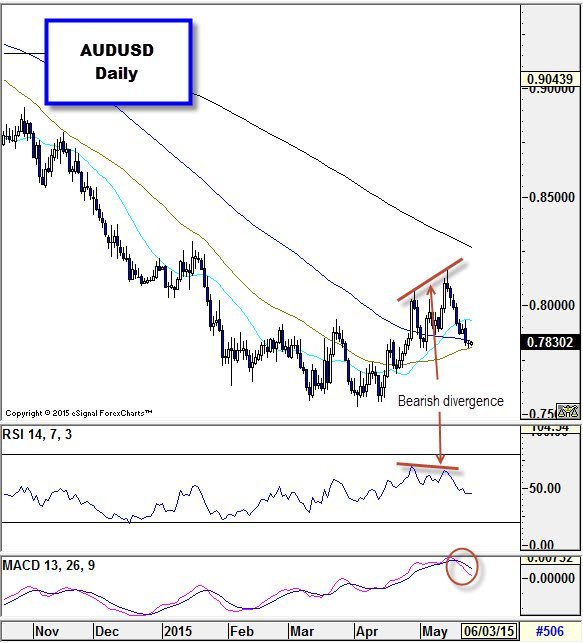 Source: FOREX.com