Well that didn't take too long.
In Friday's Week Ahead report, we highlighted the big breakout above 120.50 in USDJPY, noting that the breakout "could carry over into this week's trade, with a potential move up to the 7.5-year high at 122.00 in play." The bullish momentum picked up in earnest earlier today as European and US traders returned to their desks after a long holiday weekend, with the pair exploding through the 122.00 level to a rally above 123.00 as of writing.
The bullish move was helped (or at least not hurt) by today's April Durable Goods Orders report. While the headline reading fell 0.5% m/m, some giveback was widely anticipated after last month's stellar 4.7% reading. More to the point, the Core Durable Goods Orders measure, which filters out volatile transportation orders like airplanes, rose at a steady 0.5% m/m as expected. In contrast to most of the last two months, when neutral economic data was seen as a negative for the US dollar, today's ho-hum Durable Goods Orders report has supported the US dollar, representing a major change in market sentiment.
Technical View: USDJPY
Assuming USDJPY can maintain its big breakout above 122.00, more upside will be favored over the course of the week. Though it's still relatively early, the pair is currently showing a Bullish Marubozu Candle on the daily chart, signaling strong bullish momentum and a likely continuation higher. Meanwhile, the MACD indicator is showing bullish momentum, trending higher above its signal line and the "0" level, though the RSI is peeking into overbought territory. The oversold RSI reading suggests that more conservative traders may want to wait for a pullback toward 122.00 to improve the risk/reward ratio before joining in on the breakout. If this week's economic data continues to support the greenback, USDJPY bulls may look to target the 12-year high at 124.13 next.
* A Marubozu candle is formed when prices open very near to one extreme of the candle and close very near the other extreme. Marubozu candles represent strong momentum in a given direction.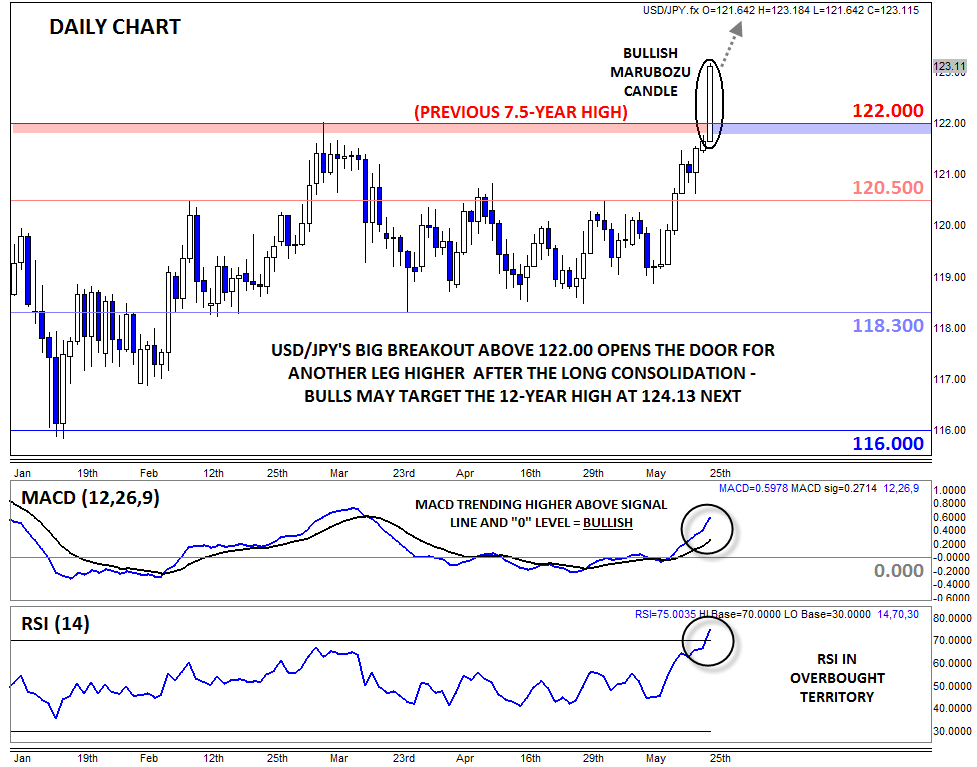 Source: FOREX.com
For more intraday analysis and market updates, follow us on twitter (@MWellerFX and @FOREXcom)