Since the conclusion of the election in the UK a couple weeks ago that was anticipated to be a political mess but ended up being a resounding victory for the conservative Tories, the GBP has been on a roll.  Coupled with the negative economic results in the US, investors were flocking to the Pound Sterling as the gem of the currency world as the pre-selling before the election got a little ahead of itself.  However, the last 10 days or so haven't been as kind to the GBP/USD, which has fallen nearly 500 pips from post-election heights.  Other GBP pairs continued to march on through with the GBP/CAD being chief among the contenders.  That strength could come to an end soon though if a popularly referenced technical pattern has any say in the matter.
You've probably already gathered by now that I'm talking about a Double Top pattern that recently formed in the pair.  This could turn out to be a Celebrity Death Match of sorts for technical indicators: In this corner… used for centuries by speculators near and far…the often disputed heavyweight champion of the world...The Trend Line!!!  And in this corner…the challenger…the trend stopper…the dead end sign when there is no more road…the "thou shall not pass" of the technical trading world…The Double Top!!!!  You get the idea.
When considering which pattern may win this fight, it helps to take a look at what else is going on around the world.  Greece is a never-ending mess; the Bank of England just accidentally released their super-secret Brexit plans (titled "Project Bookend"…no really); and the Bank of Canada just smiled and did nothing but call low inflation transitory at their monetary policy decision this morning.  So to recap, GBP is correlated with EUR (typically), so bad Greece news is bad UK news; a Brexit would be an immediate hit to the GBP simply due to the uncertainty of the whole thing; and the BoC using the Federal Reserve's favorite new word harkens a bit of hawkishness.  That all points to the GBP as potentially weak, and the CAD as potentially strong.  Just surveying the landscape, it looks like Double Top may be the favorite in this battle of technical behemoths.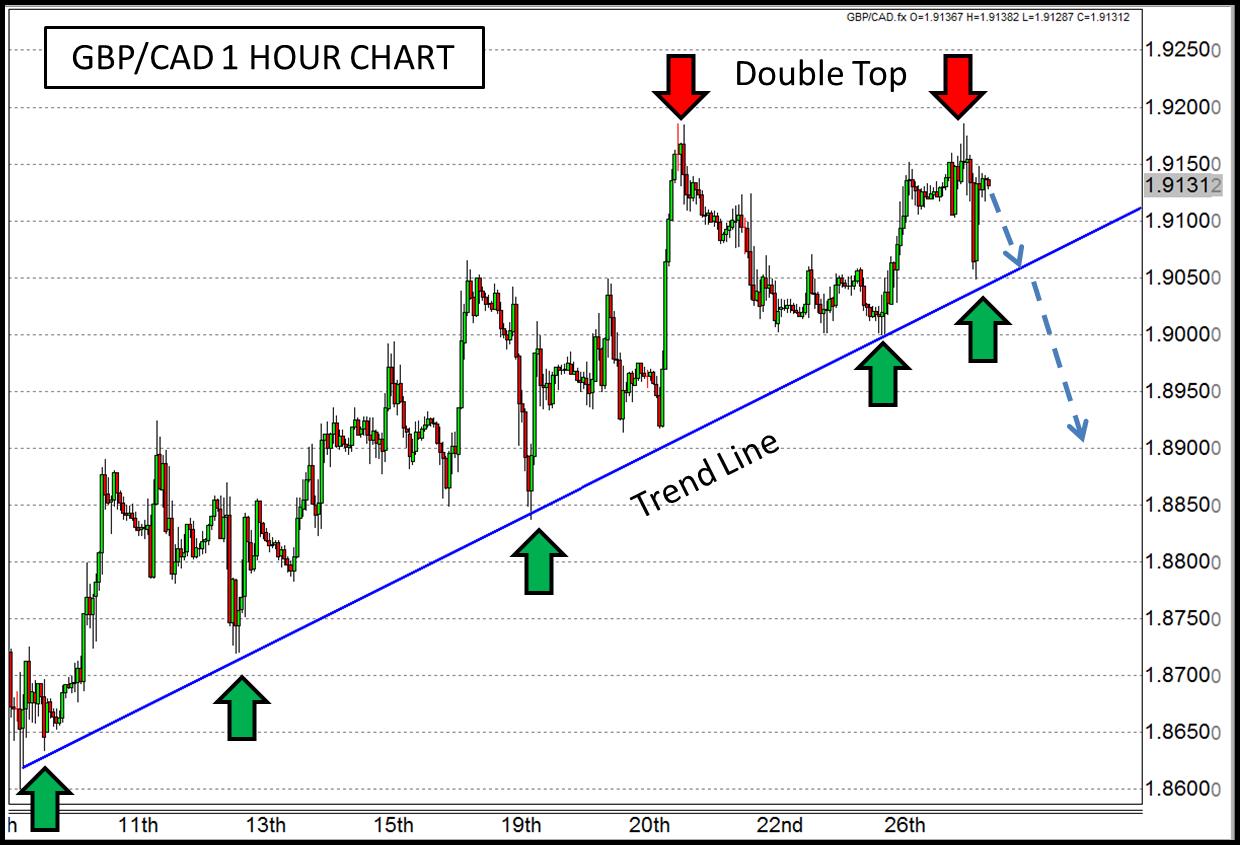 For more intraday analysis and trade ideas, follow me on twitter (@FXexaminer ).