The return of the "Best House in a Bad Neighborhood" trade has seen the dollar rally strongly over the last three weeks, with the trade-weighted dollar index breaking back above its 50-day MA near 97.00 earlier this week. However, one of the strongest moves toward strength in the greenback has been seen in against the New Zealand dollar, which isn't even a part in the dollar index. Since peaking at .7750 in mid-April, NZDUSD has shed nearly 600 pips amidst falling global commodity prices and fears that the RBNZ will cut interest rates at its June 11th meeting.
The catalyst for today's drop in the kiwi was news that Fonterra, the massive dairy co-operative, was lowering its payouts for dairy products to an 8-year low of NZ $4.40/kilogram. Fonterra's chairman, John Wilson, stated that "World markets are over-supplied with dairy commodities after farmers globally increased production in response to the very good prices paid 12-18 months ago…This supply imbalance has heightened due to continuing good growing conditions in most dairy producing regions." Dairy products make up fully one-third of New Zealand's exports, so the island nation's economy has been hit hard by the falling prices of milk and other dairy products.
On a technical basis, today's selloff has driven the kiwi to a new 2-year low against the US dollar, breaking the February/March double bottom support level at .7180. We've been bearish on the pair ever since it broke below its rising wedge pattern early this month, but that pattern's measured move target at .7150 has now been hit and the pair is reaching the bottom of its near-term bearish channel. Not surprisingly, the lagging MACD indicator is trending lower below its signal line and the "0" level, showing strong bearish momentum in the pair, though the RSI indicator is now edging into oversold territory (< 30).
Synthesizing the above technical factors, today's price action will be critical. If we see a late-day recovery back above .7180, it would show that buyers are stepping in to defend the pair and could open the door for a more substantial bounce toward the top of the bearish channel around .7300. On the other hand, a daily (and especially weekly) close beneath .7180 would represent a major victory for the bears and could eventually pave the way for a continuation to key psychological support at .7000.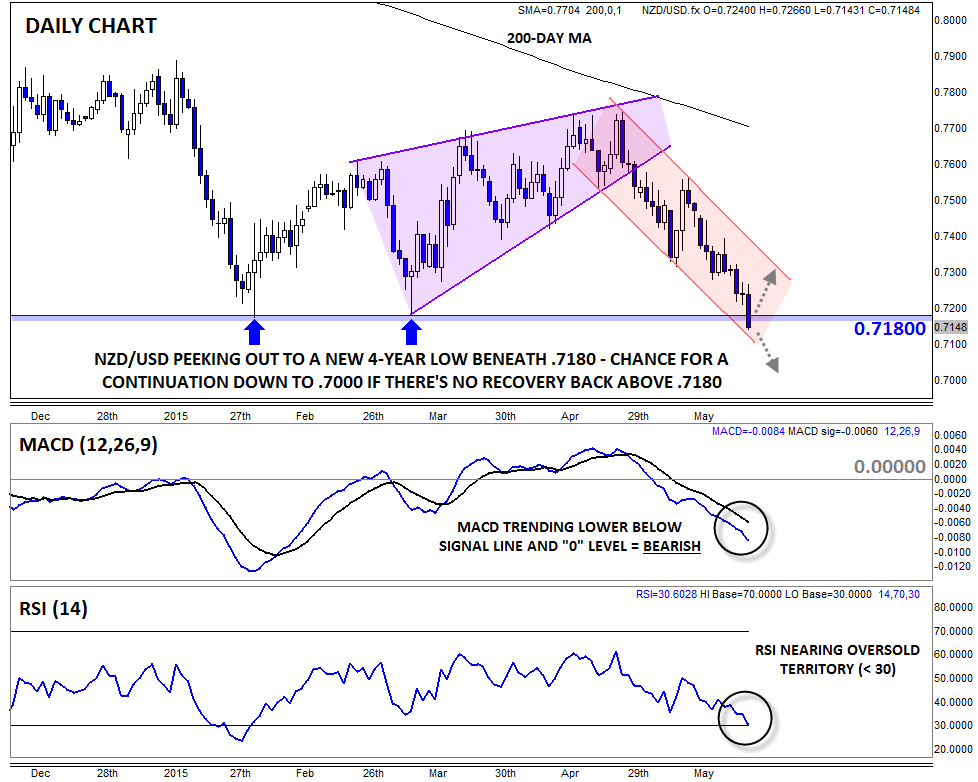 Source: FOREX.com
For more intraday analysis and market updates, follow us on twitter (@MWellerFX and @FOREXcom)