WTI crude oil managed to bounce off its worst levels following the publication of the latest crude stockpiles report from the US Energy Information Admiration (EIA), but remained in the red and was on course to end lower for a fifth day. Prior to the release of the EIA report, traders were evidently expecting to see a "bad" number because the American Petroleum Institute's (API) data last night had indicated that inventories had climbed by 1.3 million barrels last week. The consensus expectations for the EIA number were not overly optimistic either, calling for a decrease of only 1.5 million barrels. However the actual number surprised as it showed, first and foremost, a drawdown, and a relatively sharp one at that: 2.8 million barrels. This was thus the fourth consecutive decline in as many weeks. During this period, oil stocks have been reduced by 11.6 million barrels. The drawdown of 3.3 million barrels in gasoline stocks also surprised but this was somewhat less than the decline reported by the API (3.6 million barrels). So overall it was a bit of a mixed-bag to slightly positive oil report. But for WTI to recover meaningfully, we will need to see further sharp decreases in stockpiles for they still remain near historic high levels.   
Preventing oil from staging a more profound recovery was undoubtedly the stronger dollar, which continues to weigh on commodities across the board. The US currency remained in demand after pending home sales jumped by 3.4% in April – much better than 0.8% expected – although it pared its gains as the session wore on.  The greenback is beginning to look a little bit overstretched in the short term, so a pullback could be on the cards. If seen, this could provide a respite for buck-denominated commodities in the short term. In the long term however, the dollar could appreciate significantly as the US Federal Reserve looks set to embark on a rate hiking cycle from as early as September.
Despite the sharper than expected drawdown in US oil stocks, the Brent-WTI spread rose back to above $5, having collapsed to a mid-April low of  about $4.50 yesterday. Still, this is considerably lower than just a few months ago when the gap was about double this figure. Evidently, traders are surprised by the resilience of US oil, while at the same time they have grown bearish on Brent because of the continued rise in OPEC output. Saudi and Iraq are already producing more oil than is needed and soon Iran could join them if its sanctions are eased further or removed completely. On top of this, oil demand from China could ease if its economy cools down even more. Thus, there is a chance that the price gap may get eliminated completely or even reverse. That said, it is highly unlikely for WTI to trade at a premium over Brent for a sustainable period of time. After all, if US oil stabilises around the current levels then there will be no incentive for shale producers to scale back operations more than they already have. This may mean therefore that the excessive US oil surplus will remain in place for the foreseeable future and thus absorb any small positive demand shocks.
From a technical point of view, WTI remains in danger of collapsing towards support levels at $56 or $54.00, now that $58.00 is taken out decisively. The latter is the key resistance level to watch going forward; our short term bias remains bearish while below here. Brent is now testing its bullish trend line around $61 – it has already bounced off this area. A potential break below the trend line could expose the 61.8% Fibonacci level at $59 for a test.
Figure 1: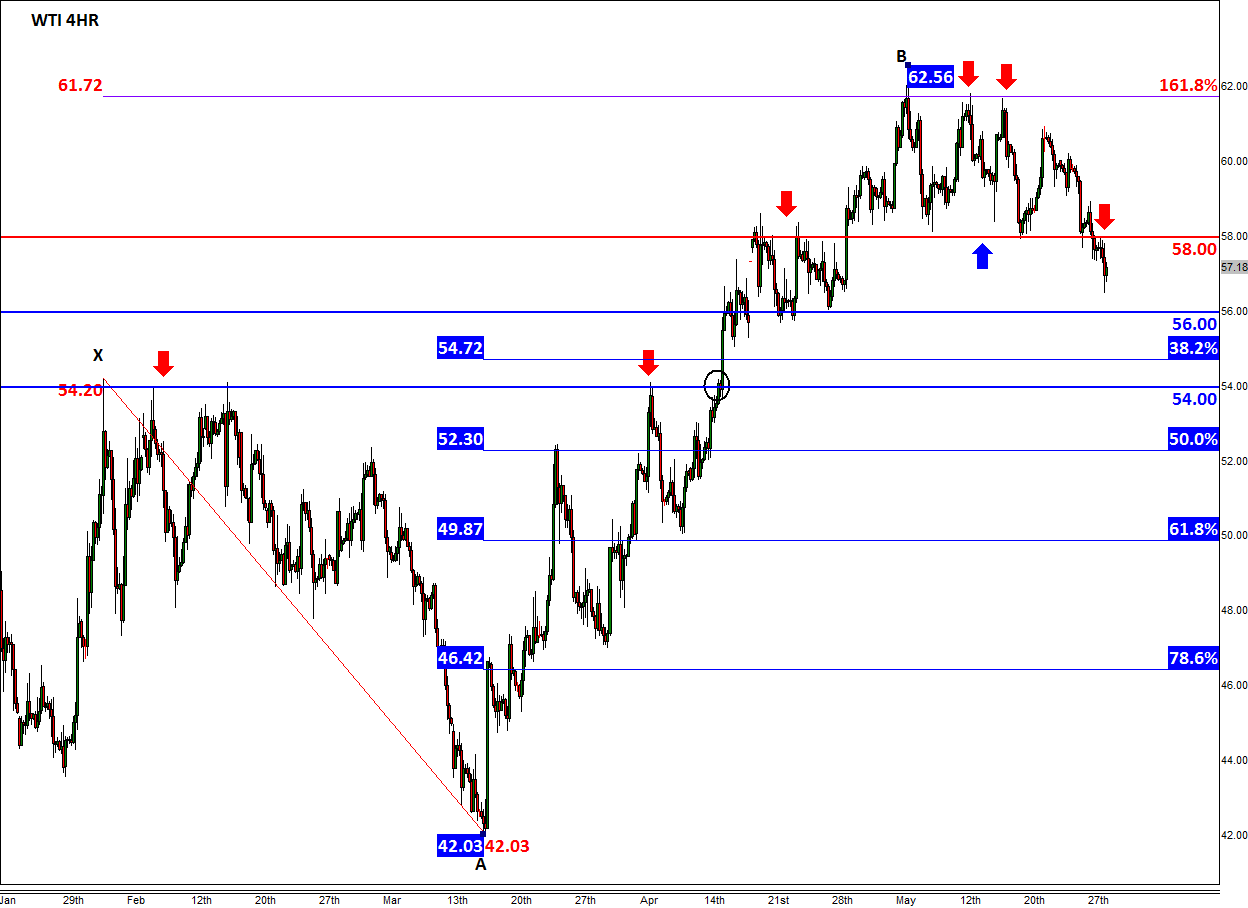 Figure 2: