Earlier in the Asia session Japan released its consumer price numbers for April. The data printed slightly above expectations, with core-CPI rising 0.3% y/y and core-core-CPI jumping 0.4% y/y (expected 0.3%) last month, slightly better than the prior month's figures which showed adjusted increases of 0.2% and 0.1% respectively. Also, Japanese industrial production jumped 1.0% in April, after falling 0.8% in the prior month. However, these numbers aren't game changing enough to materially impact the outlook for Japan's economy, especially considering inflation remains well below the BoJ's 2% target and there's still a fairly bleak outlook for industrial production. This may be why there was only a slightly positive reaction from the yen to this numbers, with USDJPY pushing further away from its 12.5-year high around 124.45.
In NZ, the NZ dollar has been assaulted by sellers for the second day in a row. Yesterday, Fonterra lowered its payout to dairy producers by 10 cents to $4.40 a kilo and the chairman, John Wilson, stated that "world markets are over-supplied with dairy commodities after farmers globally increased production in response to the very good prices paid 12-18 months ago…" (For a full rundown of this announcement and a look at NZDUSD see my colleague Matthew Weller's piece). This resulted in a widespread sell-off in the NZ dollar, sending NZDUSD to its lowest level in over 4 years. The commodity-backed currency attempted to regain some lost ground early in the Asia session, before soft NZ economic data spoiled the party. ANZ's May Business Confidence Index dropped to 15.7 from 30.2 in April, its lowest level since September 2014, and its Business Activity Index fell to a two-year low. Whilst this isn't going to be enough to force the RBNZ into a more dovish stance, it does raise even more questions about the health of the so-called standout economy.
Recent widespread yen weakness seems to have run its course. Today's Japanese economic data reinforces our view that the JPY sell-off has run its course. Meanwhile, the recent weakness in the kiwi has helped push NZDJPY away from an important resistance zone around 90.00 and on towards some support just above 88.30; this happens to be around the pair's 50% Fibonacci retracement level from this year's low. Below here we're eyeing off 87.30 – 61.8% retracement level and horizontal support.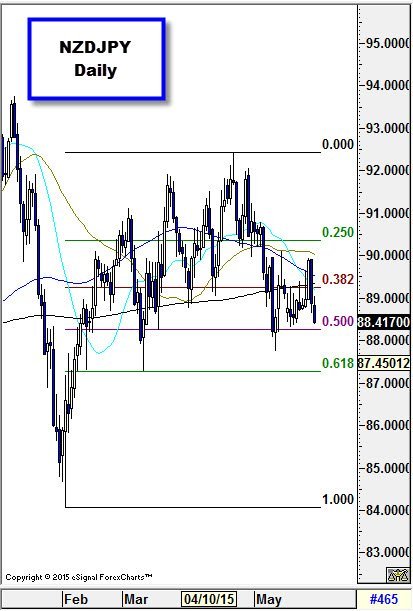 Source: FOREX.com