May was an eventful month in China, especially for equities. The Shanghai Composite recorded one of its biggest one-day declines in 15 years, with the market falling more than 6% on 28 May, leaving many wondering whether this was the beginning of a larger correction on the back of this year's stunning gains in Chinese equities. However, investors soon returned to the market in force, shrugging off a two-day losing streak. Even with the aforementioned sell-off the Shanghai Composite is up almost 50% this year, but even this spectacular performance is dwarfed by a 106% increase in the tech-heavy Shenzhen over the same period.
What's driving the rally in Chinese equities?
The drive towards Chinese equities has been driven by a reallocation of assets away from cash and property on the back of policy easing from both monetary and fiscal authorities, with trading volumes well above their historical averages (see figure 1). The People's Bank of China (PBoC) has been actively attempting to boost economic growth through numerous cuts to interest rates and a reduction in the amount of cash that banks are required to hold in reserve. The latest round of easing came earlier this month in the form of a reduction in one-year lending and deposit rates by 0.25% each to 5.1% and 2.25% respectively. This is third time the central bank has cut interest rates since November 2014 when the benchmark one-year rate was 6%.
Looser policy is making cash less attractive and debt cheaper, pushing investors into equities. At onetime this may have fuelled a push towards China's property market, and it's probably helping to stabilise prices this time around, but this isn't the case anymore. China's property market is still undergoing a severe correction and it's less risky, as easier for that matter, to park money in equities. This domestic reallocation of assets represents a major shift in the fundamental structure of the world's second largest economy; hence the massive gains in equity markets.
Can the rally last?
The market has certainly detached from its underlying fundamentals. After all, the rally is being fuelled by a reallocation of domestic capital as deteriorating economic conditions force policy makers into a more dovish stance. This obviously leaves the market vulnerable if cash stops flowing in through these channels as valuations are already really stretched, but it doesn't mean the party is going to come to an end.
At the moment the market is reacting positively to negative economic data that is expected to trigger further stimulus from Beijing. US equities have been in a similar position recently and the notion of tighter rates hasn't resulted in a major correction in that part of the world, although it has made some investors nervous and it's risky to compare the two very different markets. However, stretched valuations in China make the market very vulnerable to mass capital outflows and softer domestic economic conditions in the long-term, which could result in another GFC like sell-off. In the near-term, the prospect of even more cash floating around the market may keep the rally alive. The Shanghai Composite may even make a run for its pre-GFC high near 6,000, although it needs to break a psychological resistance zone around 5,000 before getting there – 4,500 fell without much of a fight.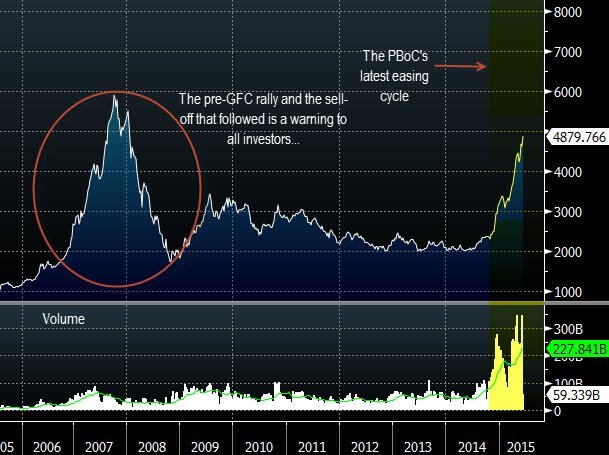 Source: FOREX.com, Bloomberg