Highlights
---
Technical Developments to Watch:
EUR/USD still below key trend line resistance at 1.1380
GBP/USD testing key support at 1.5190
USD/JPY at a 13-year high, bias bullish above 124.15
NZD/USD in play, potential for another leg lower if RBNZ cuts rates

* Bias determined by the relationship between price and various EMAs. The following hierarchy determines bias (numbers represent how many EMAs the price closed the week above): 0 – Strongly Bearish, 1 – Slightly Bearish, 2 – Neutral, 3 – Slightly Bullish, 4 – Strongly Bullish.
** All data and comments in this report as of Friday's European session close ** 
 EUR/USD

EURUSD exploded higher early last week before but gave back most of its gains on Thur. & Fri.
MACD and Slow Stochastics show balanced, two-way trade
Key support sits in the mid-1.0800s
EURUSD had a rollercoaster ride of a week, spiking nearly 500 pips trough-to-peak before giving back over 300 pips in the wake of Friday's strong NFP report. Meanwhile, both the MACD and Slow Stochastics are now in neutral territory, signaling balanced, two-way trade. Traders are clearly trying to sort out last week's volatile price action, but from a longer-term perspective, the one-year bearish trend line perfectly capped last week's rally, so we're inclined to give the bears the benefit of the doubt as long as EURUSD holds below 1.1380.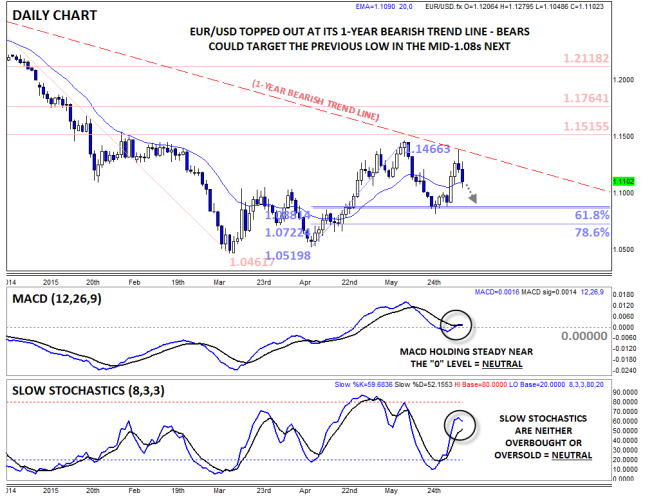 Source: FOREX.com
GBP/USD

Like EURUSD, GBPUSD bounced early last week before turning back lower on Friday
MACD still trending lower, signaling bearish momentum
Break below key support at 1.5190 could expose the 61.8% Fibo at 1.5040 next
Like EURUSD, GBPUSD bounced sharply early last week before turning lower and giving back its gains by Friday afternoon. The MACD continues to show bearish momentum, and the early-week bounce has taken the Slow Stochastics out of oversold territory, potentially clearing the way for another leg lower. For this week, a break below the 50% Fibonacci retracement at 1.5190 could open the door for another leg down toward the 61.8% retracement at 1.5040.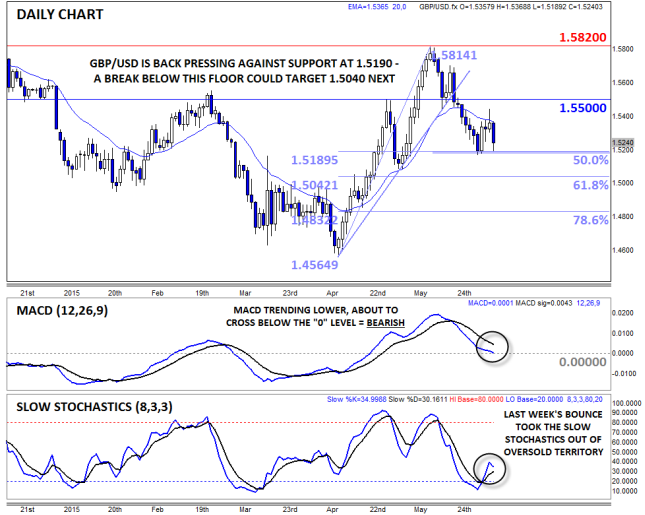 Source: FOREX.com
USD/JPY

USDJPY consolidated early last week before breaking out to a 13-year high on Friday
MACD showing bullish momentum, but Slow Stochastics overbought
Bias remains bullish above the previous 13-year high at 124.15
USDJPY bulls tacked on another strong week: after consolidating for the first few days, USDJPY continued its uptrend in earnest on the back of Friday's strong NFP report. As we noted last week, the MACD is showing strong bullish momentum, but the Slow Stochastics is now deeply overbought, hinting at a possible pause or pullback for this week. That said, as long as rates hold above the previous-resistance-turned-support at 124.15, the bias will remain to the topside.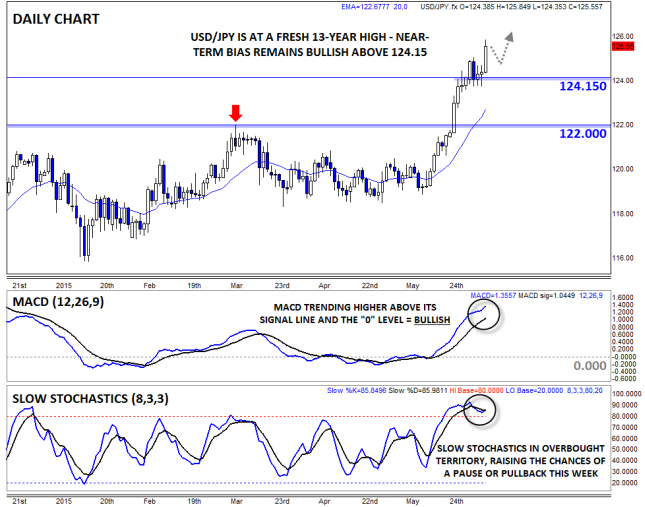 Source: FOREX.com
NZD/USD

NZDUSD retraced to the .7200 level before resuming its downtrend last week
MACD showing bearish momentum, but Slow Stochastics oversold
Break of Fibonacci extension support at .7020 would open the door for more weakness
NZD/USD is our currency pair in play this week due to a number of high-impact economic reports out of the US and New Zealand, including a highly anticipated RBNZ meeting (see "Data Highlights" below for more). Last week, NZDUSD retraced back to the .7200 level before resuming its downtrend; as of writing the pair is testing its 127.2% Fibonacci extension at .7020, which represents a nearly five-year low for the kiwi. With the MACD still showing strongly bearish momentum, a break through this floor could open the door for another big leg lower, especially if the RBNZ opts to cut rates.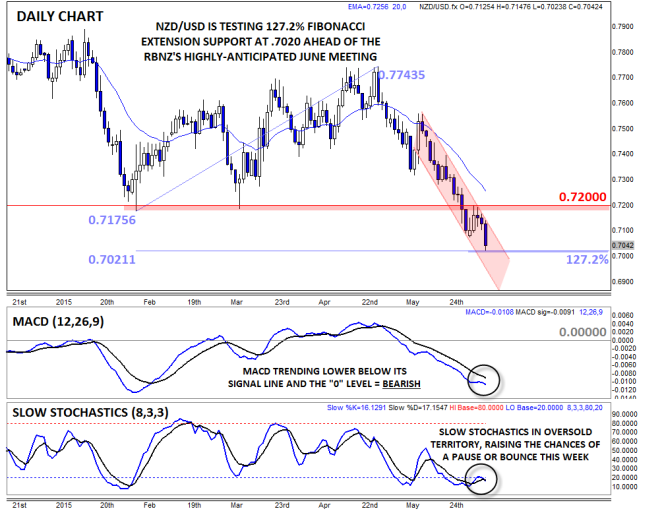 The ferocious rise in German bond yields last week stole the limelight and was the main reason why we saw a recovery in the EUR. At the time of writing (pr-NFP), the EUR was up 2.75% vs. the USD since the start of June. As we start a new week, we will be digesting the payrolls figure and what it means for the USD, but also watching closely how German bund yields and the EUR react to potentially strong US economic data.
Our long-term outlook for the EURUSD will be dependent on the FOMC meeting on 17th June, but until then, we think EURUSD could try to claw back recent losses and may test 1.15 in the coming weeks. Our view on the EUR is based on the outlook for yields, which in turn is based on the outlook for Eurozone inflation.
Last week's Eurozone CPI data signaled that deflation is no longer a threat to the Eurozone economy. The headline CPI rate (including energy) rose to 0.3% from 0%, the strongest reading since November, while core inflation rose to 0.9% from 0.6%, the highest reading since August last year.
This has been the key driver for German bund yields, with the 10-year yield rising to its highest level since October. Since May, the German 10-year bund yield has appreciated by more than 1000%; this is a huge reversal when you think that back in April, the market was expecting German yields to fall into negative territory.
If this adjustment in the German bond market continues then it could have big implications for the FX market. If real German bund yields (yields adjusted for inflation) continue to rise, this could be a powerful driver of the EUR in the coming months. Although Eurozone inflation is rising, German bund yields are rising at a faster rate. As you can see in figure 1, real German yields tend to move in the same direction as the currency, so if this is the start of a trend of rising real yields in the currency bloc, then it could limit the scope for further downside moves in EURUSD and questions about parity could soon disappear.
This week, if bund yields continue to move higher then we will be looking for a break above 1.1469 – the high from 15th April, which would be an extremely bullish development for EURUSD in the short-term. Above this level we could see another leg higher for EURUSD back towards 1.20.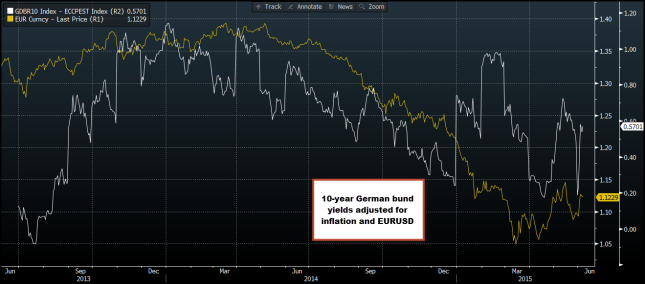 Source: Bloomberg - PLEASE NOTE THAT THESE PRICES DO NOT REFLECT PRICES OFFERED BY FOREX.COM.
It has been another volatile week for European stocks as traders responded to headlines regarding Greece, economic data and movements in the FX and bond markets. After weeks of talks with its international creditors, Greece requested to bundle its four payments to the IMF into one lump-sum totalling €1.5 billion and pay this on June 30. This is also the day when Greece's bailout with the EU and IMF will run out; a deal to unlock the final tranche of this bailout is still not completed. So, questions remain whether the troubled nation will be able to make the IMF payment before it runs out of cash. Thus, the Greek saga will hang over the European markets for some time yet. The bond market volatility is another issue effecting stocks. If benchmark yields continue their ascendancy then stocks could extend their falls. This week some have attributed the latest sell-off in bonds to comments from Mario Draghi at the ECB's press conference. But Mr Draghi merely stated a fact in that investors should get used to increased volatility as yields are at or near historically-low levels. There is so much volatility that yields could fall; it is not reasonable in our view to expect them to remain at, below or near zero for a prolonged period of time. The impact of the ECB's bond-buying program and the resulting weaker euro are having a desired impact on economic activity in the euro area. Once it becomes apparent that growth is picking up in the single-currency bloc then equities could react more positively to rising bond yields. But at the moment yields and stocks are going in different directions and it remains to be seen how long this inverse relationship will hold for.
One potential source of support for European stocks could be the euro, which on Friday fell sharply against the dollar as the US non-farm payrolls report showed a surprisingly large increase of 280,000 jobs in May when only 222,000 was expected. On top of this, there were positive revisions to the previous couple of months' numbers, while the labor force participation rate edged higher and average hourly earnings rose by a solid 0.3% over the month. In short, it was very good jobs report even if the rate of unemployment unexpectedly edged up to 5.5 from 5.4 per cent previously. If this jobs report helps to keep some pressure on the EUR/USD next week then this may boost the appeal of European exporters, providing some much-needed support for the major indices such as Germany's DAX. Ultimately however the longer term outlook for European equities remains bullish due to the ECB's current ultra-loose and unconventional monetary policy stance and also the potential for a sharp rebound in economic growth, among other factors.
But as we wrote this report on Friday, sentiment was still downbeat. So it is possible to see the likes of the German DAX index head further lower in the near term before bouncing back and embarking on a Nikkei-like rally. If the DAX breaks the key 11200 support level on a daily closing basis, then this could pave the way for a move towards the Fibonacci levels shown on the chart. Among these Fibonacci levels, the key one could be at 10690 which is the 161.8% extension of the last rally that started and ended in May (i.e. of the BC swing). Not only does the 161.8% Fibonacci level mark a potential exhaustion point for the bears, it also represents the point D of an AB=CD pattern and thus a Bullish Bat/Gartley pattern too. Making it even more intriguing is the fact that the point D comes in right at the support trend of the bearish channel, though this will partly depend on the speed of index's potential drop to this level. But that is if the DAX gets there in the first place, because as mentioned, the index was testing that 11200 support at the time of this writing which could hold and lead to a sharp bounce. Regardless of the level the DAX eventually bounces from (if it does), our bias would turn decidedly bullish upon the break of the resistance trend of the bearish channel (which could be a longer-term bull flag, of course).
In short, there is a possibility for the DAX to bounce back from the key support at 11200. But a decisive break below this important technical level could potentially pave the way for 10690, where we would then expect to see a sharp rebound from. Thus, there could be plenty of trading opportunities for both the bulls and the bears alike on this popular stock index next week.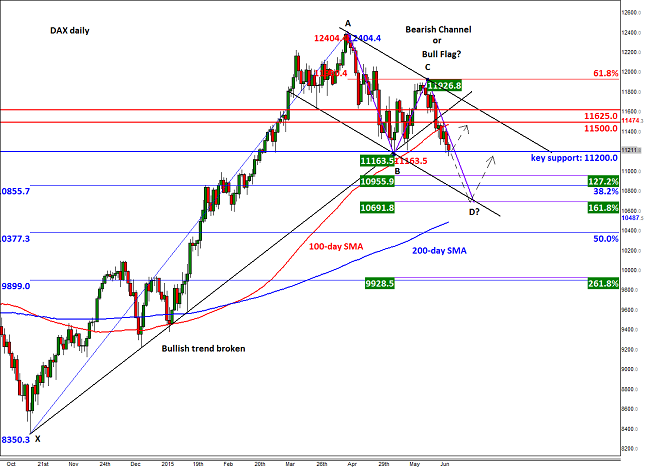 Source: FOREX.com. Please note this product is not available to US clients
Crude oil fell sharply from mid-week as speculators prepared for the OPEC's semi-annual meeting on Friday. The key decision the cartel had to make was whether to raise its official output target to around 31 million barrels of oil per day. This would have brought it closer to the group's actual output levels. But in doing so, it would have send out a signal that it was ready to raise output further in the future. This may have led to a sharp drop in the price of oil. So, the cartel decided against raising its production quota as had been widely expected and oil staged a mini relief rally. The OPEC was also considering how to deal with an eventual increase in Iranian oil exports if sanctions over the country's nuclear program are lifted later in the year. This would most likely increase the pressure on prices, causing more pain for oil producing nations. But on this matter, the vocal Saudi oil minister Ali al-Naimi replied to a journalist's question by stating that oil production "is a sovereign right. They are free to do as they want." This implies that if Iran were to increase their production, Saudi might not reduce its output to compensate for it. As a result, the oversupply issue could get worse over time. Even if they compensate for the increased production and oil prices rise as a result, it will then be likely that US shale producers would increase their output once more, which should not be too difficult to achieve in a short space of time as the infrastructure is already there. So the excessive oil surplus will likely remain in place for a long time. Thus, any notable increases in oil prices will have to come from changes in the demand side of the equation, which the OPEC is bullish on. As such, future economic data from the likes of China and the Eurozone will become even more relevant for oil traders. Needless to say, if the three major energy agencies increase their oil demand forecasts next week, this could also provide some short-term support for oil.
It is important to remember that that oil is priced in US dollars and therefore vulnerable to changes in FX rates. The greenback got a shot in the arm Friday on the back of a much-stronger-than-excepted jobs report. If the dollar manages to push further higher next week then this may prevent oil from staging a more profound recovery. Indeed, oil could actually extend its decline for this exact reason. After all, the technical outlook is looking shaky for both oil contracts. At the time of writing on Friday, Brent was struggling to push significantly higher after its earlier bounce from its bullish trend line around $61.40 area. If this level breaks down then Brent could drop to $60 or even $59 fairly quickly. The former is a psychological level while the latter marks the 61.8% Fibonacci level of the last notable up move. In contrast, if Brent holds above this $61.40 support area then it may make a move back towards resistance at $64.00. A short term bearish trend then comes in around $65 which must be broken for oil to potentially rally towards the 200-day moving average at $70 in the coming days and weeks. WTI meanwhile has broken its bullish trend but so far there hasn't been much follow-through in the selling pressure. If US oil ends decisively below $58 then this could pave the way for an eventual drop to the key $54 handle soon.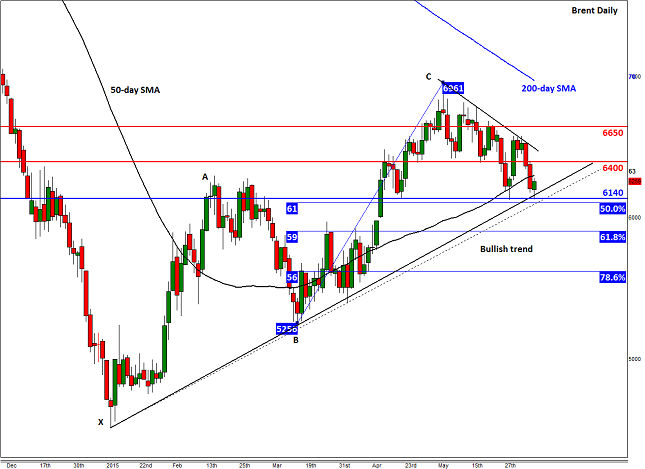 Source: FOREX.com. Please note this product is not available to US clients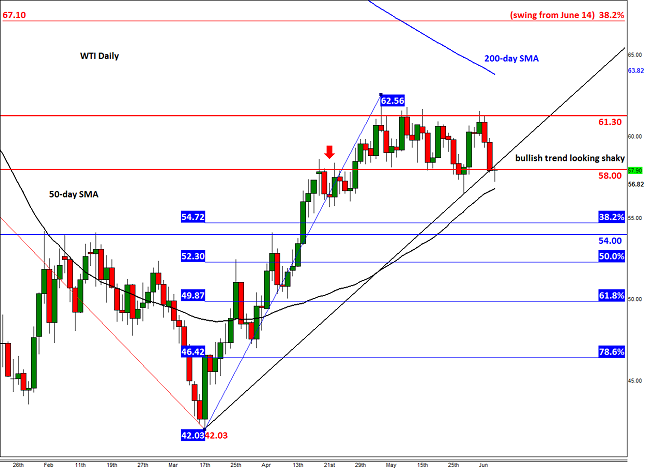 Source: FOREX.com. Please note, this product is not available to US clients
UK:
June 9: 0830 GMT: Trade balance, April
The trade balance has been a major drag on growth so far in 2015 and this data is expected to show a slight moderation in the UK's trade balance at the start of Q2. If this is larger than expected then it could add downside pressure to GBP. So much for economic rebalancing…
June 10: 0830 GMT: Production data, April
The industrial and manufacturing data may be fairly old, however it can have an impact on the pound. The market is looking for production growth to slow compared to March, with 0.1% expected.
Eurozone:
June 9: 0900 GMT: GDP Q1
This is the first reading of GDP to be released from the currency bloc, the market is expecting a reading of 0.4%, which would push annual growth to 1%. This is still weak for an economy the size of Europe's, however it does suggest that the bloc is continuing to expand at a moderate pace, which is better than no growth at all. Watch out for regional differences; even Germany has started to moderate in recent months, so the risk to this could be to the downside.
June 12: 0900 GMT: Industrial production, April
The market is looking for a strong rebound in April of 0.4% from -0.3% in March, the annual rate is expected to moderate to 1.1%. This is still a fairly healthy level of growth, but it is worth watching the regional differences to see if production growth is broad-based or centered in Germany. A stronger –than-expected reading could boost the EUR.
US:
June 11: 1230 GMT: Retail sales, May
This is going to be watched closely as there have been signs that the US consumer is exercising caution, which could limit economic growth going forward. The market is looking for a healthy 1.1% reading in advanced retail sales, which could reverse recent weakness. If we get a weaker-than-expected reading this could weigh heavily on USD.
June 12: 1230 GMT: producer prices, May
The market is focusing on US inflation pressures ahead of next week's Fed meeting. Due to this any sign that inflation pressures are building in the producer sector could boost the USD. The market is expecting PPI to have picked up last month, rising 0.4%. This could help the annual rate to improve after recent large declines. The core rate (ex. energy and food) is expected to decline slightly to 0.7% from 0.8%.
June 12: 1400 GMT: University of Michigan confidence, June
This is the first reading of US consumer confidence for June and will be watched closely. The market is expecting a pick-up to 91.2 from 90.7 in May. If this happens it would suggest a partial recovery in confidence after a recent period of weakness, and it could also raise some hope that the US consumer will make a summer comeback.
Enjoy this newsletter? Use the share button to post it on your favorite site or subscribe to our RSS feed to receive session recaps daily.