It's been a relatively quiet first day of trade in the G10 FX market, where the biggest story has been profit-taking in the US dollar after Friday's strong NFP report. Things are much more interesting in the EM FX space, where the greenback is actually hitting major highs against some of its emerging rivals:
USDTRY: Erdoğan's Lament
The epicenter of today's biggest FX market move is in Turkey (how often can you say that?), where this weekend's election resulted in a disappointing performance for Turkey's ruling AKP party. The party of Turkey's President Recep Tayyip Erdoğan was only able to capture 41% of the votes, below the 50% required to form an absolute majority and ending 13-years of single-party rule. Clearly, Turkish voters rejected Erdoğan's plans to make himself an executive president with minimal checks and balances on his power. With no party capturing an outright majority, a messy horse-trading process to try to form a coalition is likely over the next month.
In the long run, the vote in favor of limited power should benefit Turkey's economy and currency, but the immediate prospect of political uncertainty has caused traders to sell the lira first and ask questions later. USDTRY gapped up to a new all-time high at 2.75, and rates spiked further to 2.81 before settling back at 2.75 as of writing. With the big breakout above previous resistance in the 2.72-3 zone confirmed and the forecast calling for more near-term geopolitical uncertainty, USDTRY could extend its rally toward the 161.8% Fibonacci extension at 2.86 next.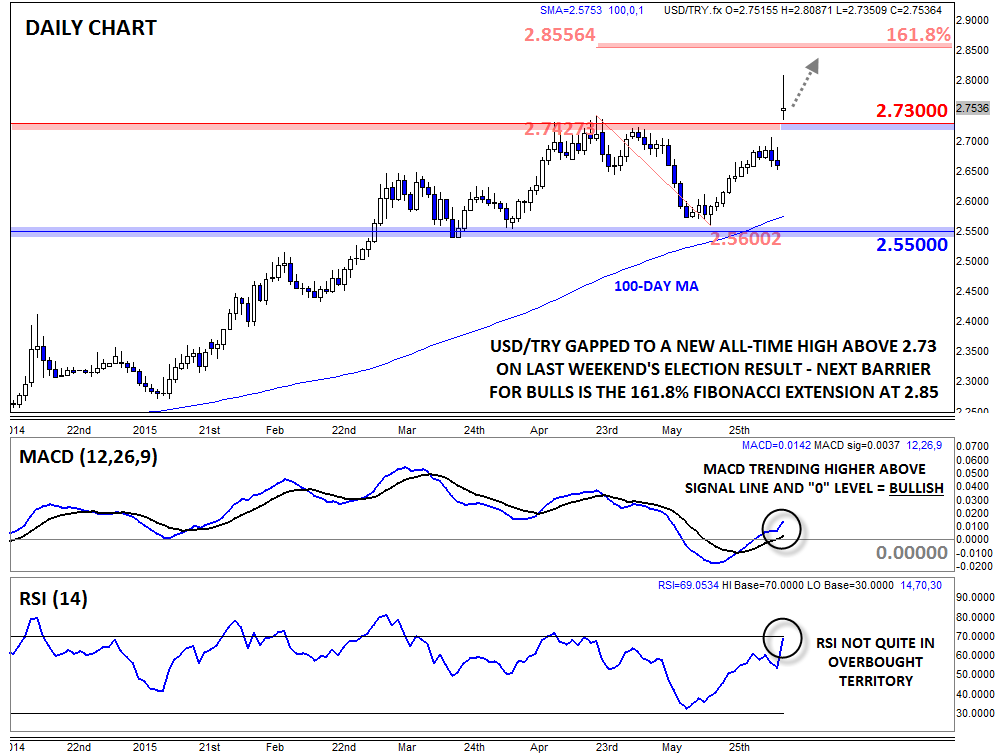 Source: FOREX.com
USDZAR at a 13.5-Year High – Could 13.00 be Next?
The buck has also hit a major high against the South African rand on Friday. USDZAR broke above its mid-March high at 12.50, leaving the rate at its highest level since November 2001. Unlike the situation in Turkey, there was little in the way of a local catalyst, rather fears of a potential sovereign credit rating downgrade (since proven unfounded, or at least premature) and general strength in the greenback propelled the pair to the current lofty levels.
Despite today's pullback, the pair is still holding above the 12.50, leaving the technical bias in favor of the bulls. The rising MACD and not-quite-overbought RSI indicator further bolster the bullish case. There's not much in the way of previous resistance nearby, so buyers may look to drive the pair up to the psychologically-significant 13.00 later this month, as long as previous-resistance-turned-support at 12.50 holds.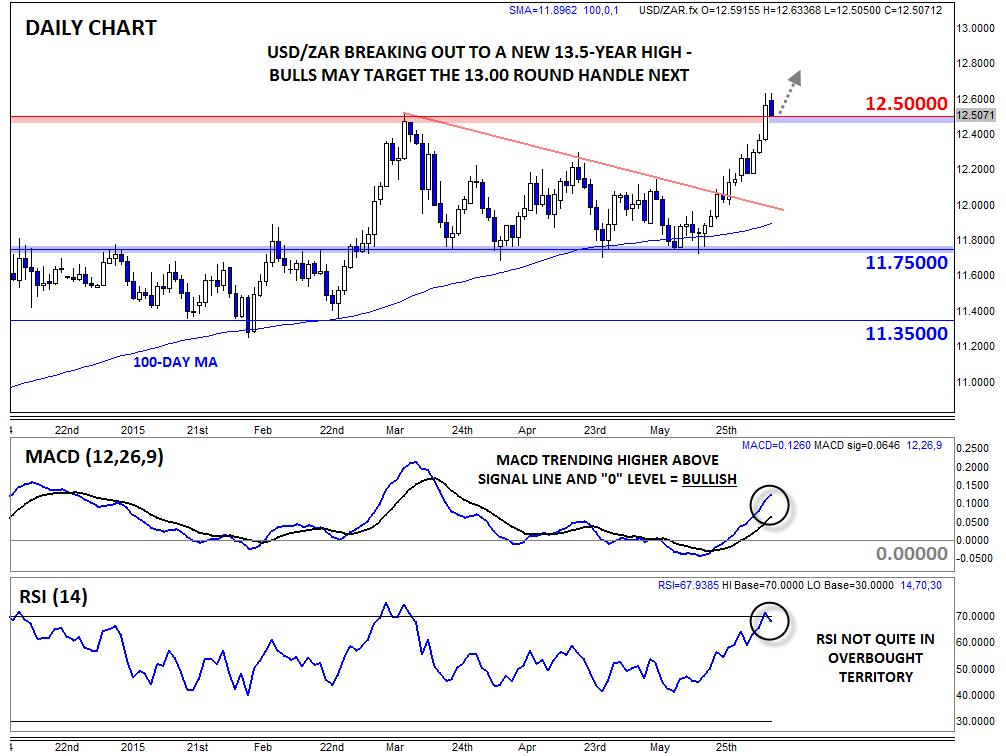 Source: FOREX.com
For more intraday analysis and market updates, follow us on twitter (@MWellerFX and @FOREXcom)