At the end of last week widespread US dollar strength on the back of stronger than expected US jobs numbers sent AUDUSD plummeting back to 0.7600. The pair then spent the majority of Monday hovering around this level, before a widespread push away from the US dollar sent AUDUSD through 0.7700. The US dollar was sold-off on the back of reports that US President Obama labelled the strong currency a problem while meeting with world leaders in Germany, and it continued to sink during the US session despite a statement from Obama denying that he made the comments.
The action continued with the aussie at the centre of a volatile session in Asia. China's released its inflation numbers for May and Australia also released some important economic data, the combination of which pushed AUDUSD as high as 0.7725 before the pair sunk back below 0.7700. Australia's economic data showed renewed optimism amongst corporates and China's softer than expected CPI stoked calls for further easing from Beijing.
In Australia, NAB's May Business Confidence Index jumped to 7, from 3 in the prior month. Sentiment amongst business appears to have improved on the back of looser monetary policy and the release of the Federal Budget, but we aren't getting overly excited about the data. One month of data doesn't indicate a broader rebound in business confidence and we don't see much evidence of increased spending by corporates. On the consumer side, there was an increase in home loans during April by 1.0%, beating an expected 2.0% drop off.
Consumer prices in China grew at their slowest pace since January and producer prices fell year-on-year for the 39th consecutive month. China's CPI jumped 1.2% y/y, missing an expected 1.3% increase, well below the government's 3% target and even slower than the prior month's 1.5% y/y jump. Meanwhile, producer prices fell 4.6% y/y (expected -4.5%) on excess supply – China's softening housing market has created excess supply in building materials – and falling energy prices.
While the Australia dollar is only slightly higher than pre-data levels, the numbers did help protect AUDUSD on the downside and encourage AUDNZD bulls - the kiwi is an easy target heading into this week's policy meeting at the RBNZ. From a technical perspective, AUDUSD looks to be stuck between a rock and a hard place. There's some stiff resistance around 0.7725 and it's going to be hard to break 0.7600 in the near-term. In saying that, another big US dollar move could lead AUDUSD in either direction and the market is going to be closely watching Australia's jobs report for May – the unemployment rate is expected to have remained at 6.2%, underpinned by an addition of 15K jobs. A move above 0.7725 may open up 0.7820, while a push below 0.7600 needs to be carefully monitored for a potential pullback in the short-term.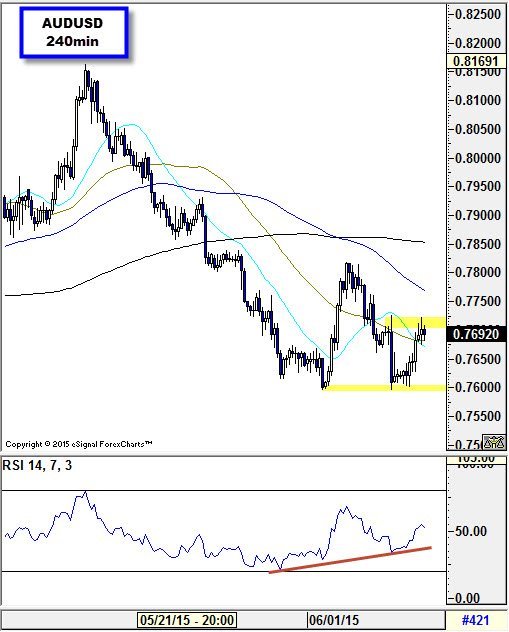 Source: FOREX.com