It has been a very interesting session in Asia, with Kuroda and Stevens sparking big moves in their home currencies. The moves around the yen have been centred on comments from BoJ Governor Kuroda that seem to suggest that the bank's uncomfortable with recent weakness in the currency. This came as a surprise to a market that has gotten used to Kuroda, a firm advocate of looser monetary policy, talking down the yen ever since he was nominated for governor in February 2013. He stated that it's hard to see the yen's real effective exchange rate falling further from here, which resulted in an immediate rally in JPY, with USDJPY plummeting through 124.00 before falling through 123.00 shortly thereafter. In total, USDJPY lost around 1.2% at its lowest point.
In Australia, RBA Governor Stevens told an audience in Brisbane that the bank "remains open to the possibility of further policy easing, if that is, on balance, beneficial for sustainable growth." This overt easing bias was absent from RBA's policy statement from its meeting earlier this month and was a confirmation of sorts for rate doves. In saying that, we aren't taking it as an endorsement that the bank is looking to cut interest rates at this time. Nonetheless, the comments resulted in an around 0.6% sell-off in AUDSD, before some comments from the Governor – Stevens call what's happening in parts of Sydney's property market crazy – helped the pair to regain some composure.
AUDJPY
The big moves in the aussie and yen pushed AUDJPY to its lowest level in a month. The pair is back below its 200-day SMA and 95.00 and testing support around 94.50 at the time of writing. Below here we're watching 94.35 and then 93.60 – between here is an important hinge for the pair and a break may spark further downside. All AUD traders are nervously eyeing Australia's employment report for May, due out tomorrow at 0130GMT/1130AEST. The unemployment rates is expected to have remained at 6.2% last month, underpinned by an addition of 15K jobs and a stable participation rate of 64.8%.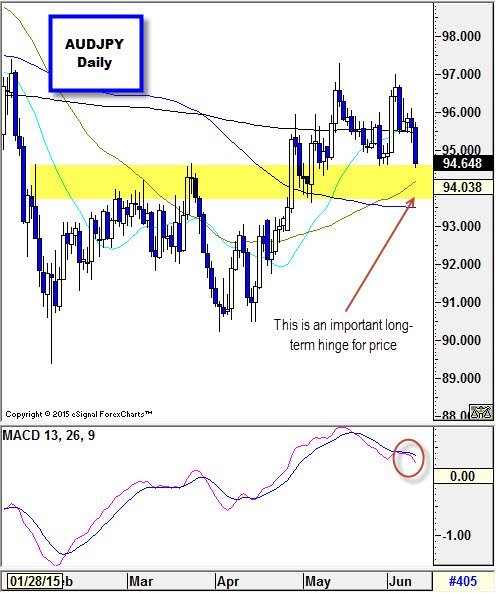 Source: FOREX.com