Crude oil prices have extended their gains from yesterday with Brent climbing above $66 and WTI $61.50 a barrel. As had been anticipated, the US Energy Information Administration (EIA) increased its 2015 world oil demand growth forecast by 20,000 barrels per day to 1.25 million bpd. The EIA also now expects US oil production to decline well into the next year. Though this makes logical sense, with drilling activity for example declining markedly in recent months amid the crude oil slump, it is also worth remembering that if prices start to rise more markedly then oil companies may want to ramp up production once more which shouldn't be too difficult to achieve with the infrastructure already there. On top of this, the potential full return of Iranian oil could be another factor that has not been priced in yet. Thus the global supply surplus may remain in place for a lot longer than some might expect which could provide a firm ceiling to prices in the medium term.
Oil prices have also found some support on the back of the latest crude inventories data by industry group American Petroleum Institute (API) which was reported last night. The API estimated that stockpiles fell last week by a sharp 6.7 million barrels which was also significantly more than expected. What' more, gasoline stocks declined by a good 3.9 million barrels. Evidently, the US driving season has started strongly as motorists take advantage of "cheaper" fuel prices. The official supply data from the EIA will be released this afternoon and expectations are running high for a similar set of numbers as the API. However the correlation between the API and EIA numbers has been low recently, so there could be a nasty surprise when the data is released this afternoon.
Ahead of the EIA's oil inventories report, both the major crude contracts are looking strong as they test key technical levels. WTI has once again reached that $61.70 mark where it had struggled previously. Some bullish traders may decide to book profit here and this alone could exert some pressure on prices. It remains to be seen whether today's oil report or some other stimulus will cause it to post a daily closing break above $61.70. If seen, the bulls may then aim for the early May high of $62.55 as their next target. Thereafter, the 200-day moving average comes in around $63.30, followed by the Fibonacci extension levels of the most recent downswing at $64.20 and $66.30. The long-term 38.2% Fibonacci retracement of the swing from June 2014 comes in at $67.10.
Meanwhile Brent is testing the 61.8% Fibonacci level of the most recent downswing at $66.30, having already climbed above last week's high of $65.80 – this level could turn into short-term support now. A potential break above here could see the London-based oil contract make a move towards the May high at $69.60 where it will also meet the 200-day moving average. Thus the potential for a double top reversal around that level is there. So far however, the developing bullish trend line has managed to hold firm after several tests. For as long as price remains above this trend line, our near-term technical outlook on Brent will correspondingly remain bullish.
Figure 1: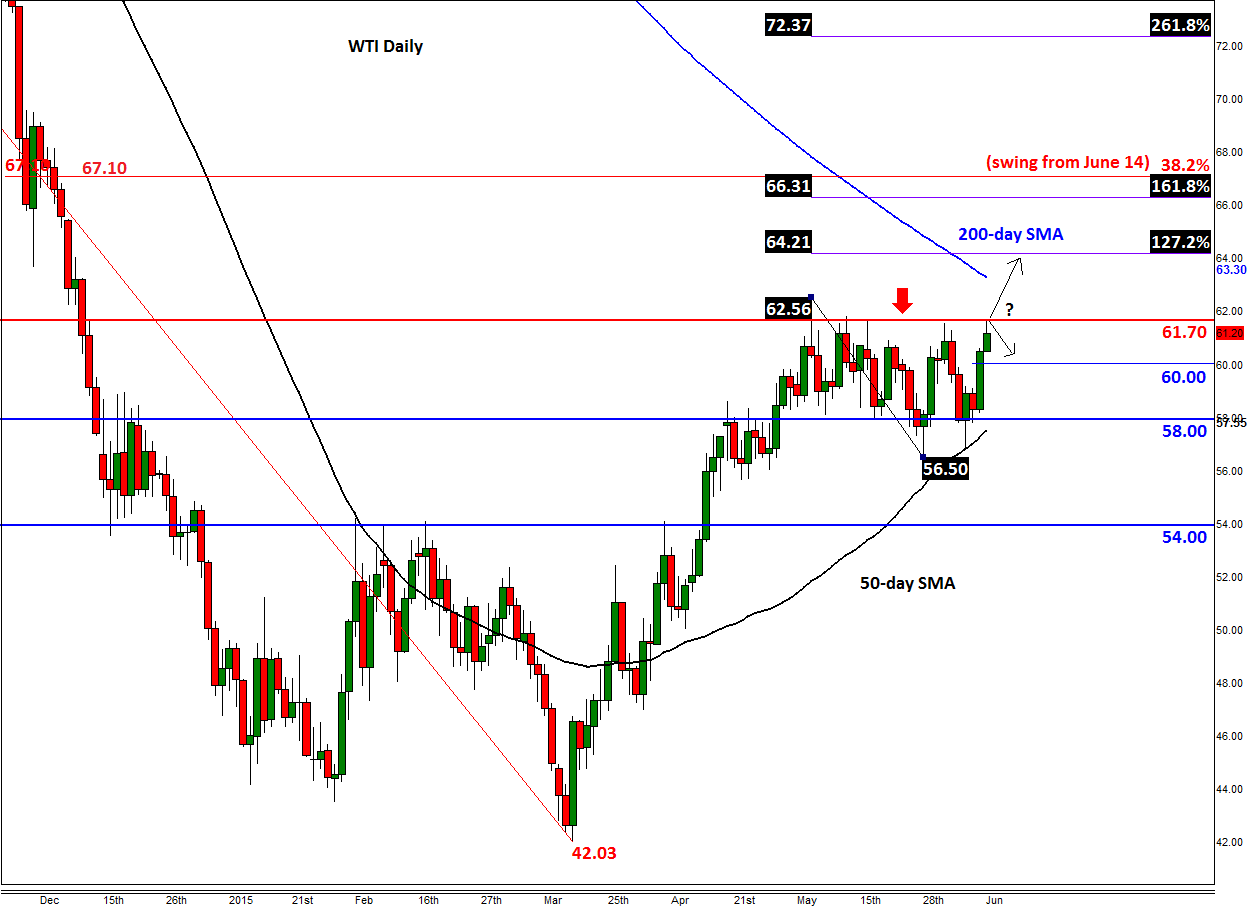 Figure 2: