It's been a surprisingly volatile first half of the trading week given the absolute dearth of US economic data. EURUSD is testing its one-year bearish trend line, GBPUSD has rallied up to major previous resistance at 1.5500, USDJPY collapsed on policymaker comments overnight, and we're just hours away from what promises to be a volatile RBNZ meeting for NZDUSD. One pair we haven't examined in depth yet this week is USDCAD, which has broken below key previous support at 1.2400 amidst Friday's strong Canadian jobs report and yesterday's big rally in oil prices.  
The recent rally in the loonie has led to a major technical breakdown in USDCAD. As we warned last week, bulls were in control above the 1.2400 level, but if the bears could "overcome the buying support at 1.2400, a deeper retracement to 1.2300 or 1.2200 is possible heading into next week." Earlier today, USDCAD came within 1 pip of the 1.2200 level before turning back higher.
Looking at the 4hr chart, the pair has put in back-to-back Bullish Pin*, or hammer, candles earlier today; this reversal pattern shows a shift from selling to buying pressure and is often seen at near-term lows in the market. In addition, the RSI indicator peeked into oversold territory heading into today's US session, suggesting that the pair was ripe for a bounce.  Of course, the question now is "how far will the short-term bounce stretch?"
In our view, the gains in USDCAD could be limited over the rest of the week. In the immediate term, the pair is testing the top of the week's channel near 1.2290, but even if that level is eclipsed, major previous-support-turned-resistance up at 1.2400 could put a cap on the rally. Meanwhile, the MACD is still trending lower below its signal line and the "0" level, so there's a chance that the bounce is already played out. If the bearish channel continues to hold, a move down to the 61.8% or 78.6% Fibonacci retracements at 1.2160 or 1.2060 respectively could be seen next.  
* A Bullish Pin (Pinnochio) candle, also known as a hammer or paper umbrella, is formed when prices fall within the candle before buyers step in and push prices back up to close near the open. It suggests the potential for a bullish continuation if the high of the candle is broken.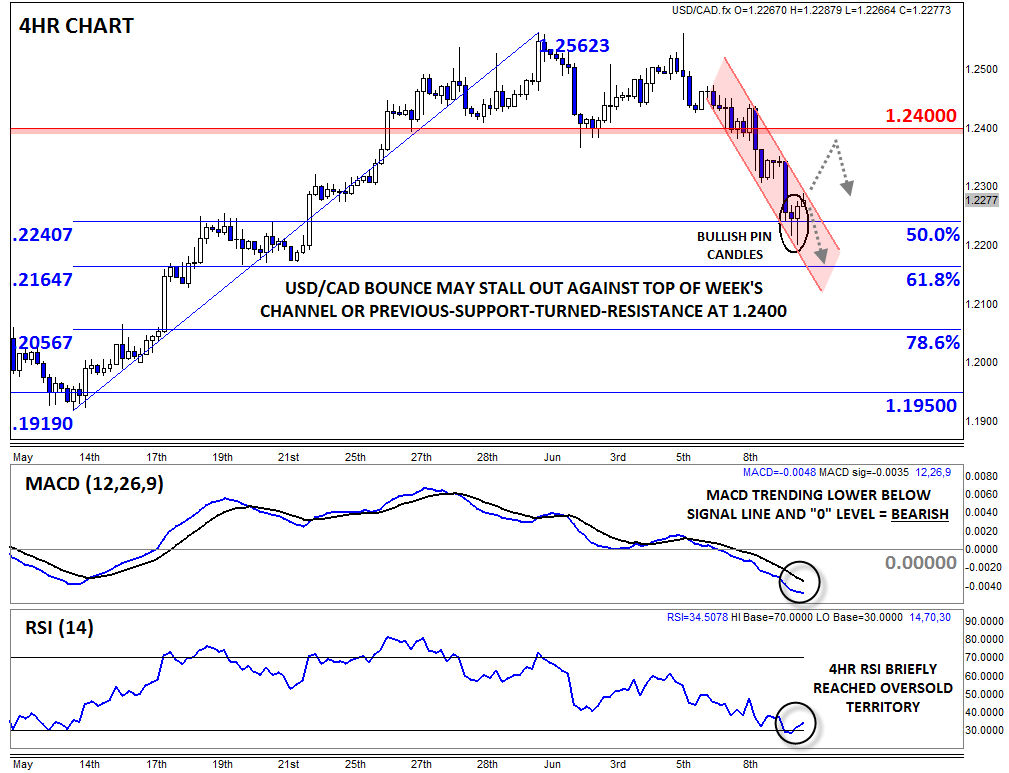 Source: FOREX.com
For more intraday analysis and market updates, follow us on twitter (@MWellerFX and @FOREXcom)