The FX market volatility could spike this week due to the sheer number of high-impact economic data, and the situation regarding Greece.  So far the euro has remained resilient in the face of the increased uncertainty over the troubled nation, but stocks have suffered. The euro is supported in part by the sell-off in the bond markets, which is driving the benchmark government debt yields higher. But soon or later the single currency may succumb to pressure and move lower with stocks. However, a favourable outcome for Greece could see the single currency stage a sharp relief rally.
While the long-term outlook for the euro remains bearish due to the ECB's on-going bond buying programme, the single currency could extend its gains in the near term, especially against some of the weaker currencies such as the NZD and CAD. In fact, the EUR/CAD currency pair has created a potential reversal pattern: an Inverse Head and Shoulders (IHS), so it may already bottomed out. As can be seen on the daily chart in figure 1, the neckline of this pattern, at around 1.3760, has already been broken and has now turned into support.  Thus, for as long as price holds above this level now, the near term outlook would remain be bullish. Only a closing break below here would invalidate this bullish setup.
The IHS target is at around 1.4500, derived by adding the height of the IHS pattern to the neckline. To get there, the bulls will need to chop some wood. There are several key resistance levels that need to be broken, not least the 200-day moving average at 1.3940. Beyond here is the psychological 1.40 handle which also corresponds with the 38.2% Fibonacci retracement level of the last significant downswing from March 2014.  Thereafter is this month's high at 1.4160/5 and then the IHS target at 1.4500. Beyond 1.45 is the 61.8% Fibonacci retracement level at 1.4605 which would be our extended bullish target.
Zooming into the 4-hour chart (see figure 2) and we can see the area around the broken neckline more clearly. On this time frame we can also notice that a couple of bullish trends have now been formed and the MACD has created a bullish crossover. Thus the trend is decisively bullish for the time being. But things could change dramatically in the FX markets and if the 1.3760 neckline breaks down decisively then we could see a massive unwinding of long positions. If seen, this could cause the EUR/CAD to drop to at least the 61.8% Fibonacci level at 1.3460, before it makes its next move.
Figure 1: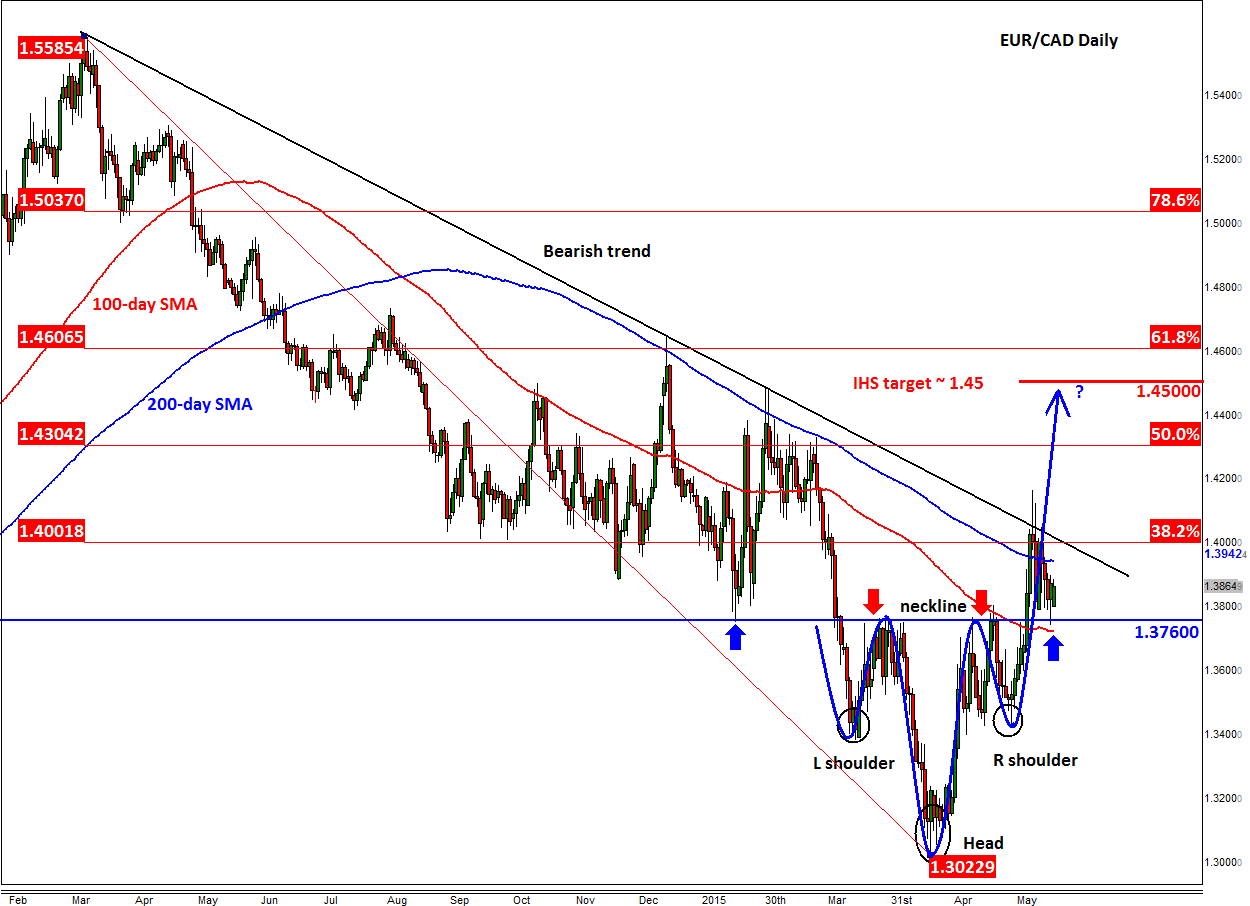 Figure 2: