The kiwi has drifted back below 0.7000 against the US dollar as the pair continues its jostle with that all-important psychological level. It's going to be an important 24 hours for NZDUSD, with a policy monetary policy in the US tonight and the release of NZ's growth numbers for Q1 tomorrow morning. In fact, these two events may determine the near-term future of the pair.
Earlier this morning NZ released its current account numbers for last quarter, which showed a slightly larger than expected surplus over the quarter. The current account jumped into surplus for the first time in four quarters at 662m (expected 282m) and the current account to GDP ratio was slightly higher than expected, although it remained in negative territory at -3.6% (expected -3.8% and prior -3.3%). The data wasn't well received by the kiwi however, as the jump can largely be attributed to softer oil prices; dairy prices are also falling and weighing on trade exposed sectors of the economy. This is partly why the RBNZ has been arguing that the NZ dollar is fundamentally overvalued.
The next big event for NZDUSD, and for the rest of the major pairs for that matter, is tonight's FOMC meeting (have a look at my colleague Mathew Wheeler's FOMC preview here). As Matt stated, there may be a lot for dollar bulls to cheer about; consistent encouraging signs from the US economy may translate into a more hawkish tone from the Fed, with Yellen expected to gradually prepare the market for higher interest rates later this year. This could support the US dollar in post-FOMC trading, assuming it happens of course.
If the Fed is more hawkish than the market expects, it's unlikely that even stronger than expected GDP numbers tomorrow will be able to save the kiwi, but they could limit the overall downside, while a weaker number may compound the sell-off. Meanwhile, if the US dollar sells off the GDP numbers could add to NZDUSD upside if they beat expectations, while softer than expected figures may see investors favour other currencies over the kiwi to unwind US dollars.
NZDUSD
From a technical perspective, NZDUSD appears to be neutral at the moment. A push higher would be supported by a bullish divergence between price and RSI on some timeframes and may help re-establish the pair above the all-important 69.50/0.7000 level. On the downside, a confirmed break through 0.6950 opens the door further a stronger sell-off.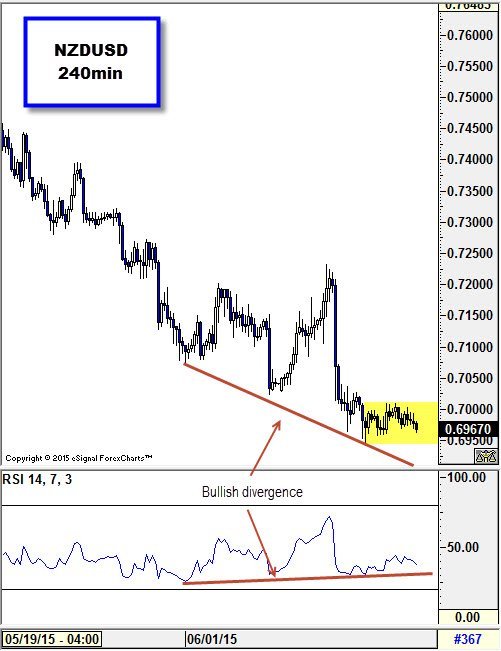 Source: FOREX.com