The NZ dollar has been mauled by bears feeding on soft NZ growth figures. At the time of writing NZDUSD has erased all of its post-FOMC gains and is nudging support around its almost five-year low. This illustrates just how bad NZ growth figures for last quarter are, with the economy expanding at its slowest pace in two years.
Seasonal adjusted GDP grew a measly 0.2% last quarter, completely missing an expected 0.6% expansion, as primary industries activity fell 2.9%; lower dairy production and softening activity in the mining sector are to blame. Also, business investment expenditure was very soft.
The figures are weak enough to suggest that the Reserve Bank of New Zealand (RBNZ) may cut interest rates at its next policy meeting in July. Last week the RBNZ cut interest rates for the first time in four years and opened the door for further policy loosening if needed to support the economy. With GDP growth well below the RBNZ's target range and weighing on inflation it's not hard to argue that further policy loosening is needed, despite the risk to NZ's already overheated property market.
Today's soft figures have pushed AUDNZD through an important resistance zone around 1.1100 and the pair is currently hovering around 1.1200. Late last week, AUDNZD smashed through more resistance between 1.0800 and 1.1100 on the back of a dovish meeting at the RBNZ and stronger than expected employment figures out of Australia. The rate dynamic between Australia and NZ has now fundamentally shifted in favour of the Australian dollar, with the RBNZ now expected to be significantly more dovish than the RBA this year; we're now expecting two 25 basis point rate cuts in NZ, as opposed to only a tentative expectation for one cut in Australia.
From a technical perspective, AUDNZD is looking a little weak in the medium-term. There are some signs that we may see a retracement, but they are only tentative at best. Our overall bias remains higher in the medium-term and sideways in the near-term, as we eye an important resistance zone around 2014's high (see chart).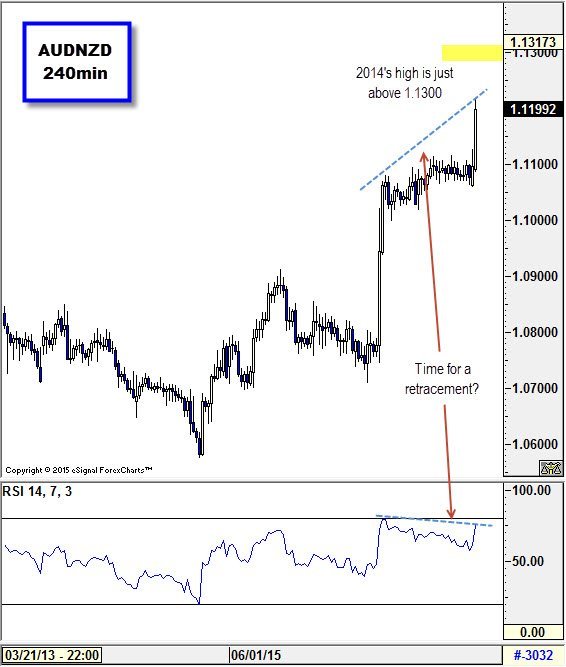 Source: FOREX.com