The Australian dollar has rocketed higher against the US dollar lately, largely due to widespread US dollar weakness on the back of a more dovish FOMC. The dollar did pare back some of these gains last night on the back of a strong reading from Philadelphia Fed's Manufacturing Index (15.2 in June, from 6.7 in the prior month), but AUDUSD is still hovering around 0.7800.
Even this relatively small jump higher in the Australia dollar is being blamed for around a 10% increase in the market's expectations for further easing this year from the Reserve Bank of Australia (RBA). The bank has stated on numerous occasions that it believes the Australia dollar is overvalued and needs to fall further to be assist economic growth. In fact, the rise and fall of the aussie is a key ingredient in the RBA's policy mix; a stronger currency increases the imputes for the bank to loosen monetary policy, while a softer one decreases it.
This means that the stronger the rally in AUD, the greater the fundamental risks of a correction. If traders believe that the rally is going to increase the RBA's motivation to cut increase rates, they're going to be more likely to take profit and opt for a trade with less risk. This doesn't mean that AUD is always doomed, other fundamentals and technical factors should be taken into account, but it's worth looking at AUD pairs for a potential pullback after a significant rally.
AUDUSD: time for a small retracement?
AUDUSD managed to poke its head above 0.7800 but the pair has since fall back below this level. The technicals aren't looking great for AUDUSD in the short-term and we may see a retracement towards trend line support (see chart). However, a break of 0.7850 may open price for a rally towards 0.7950.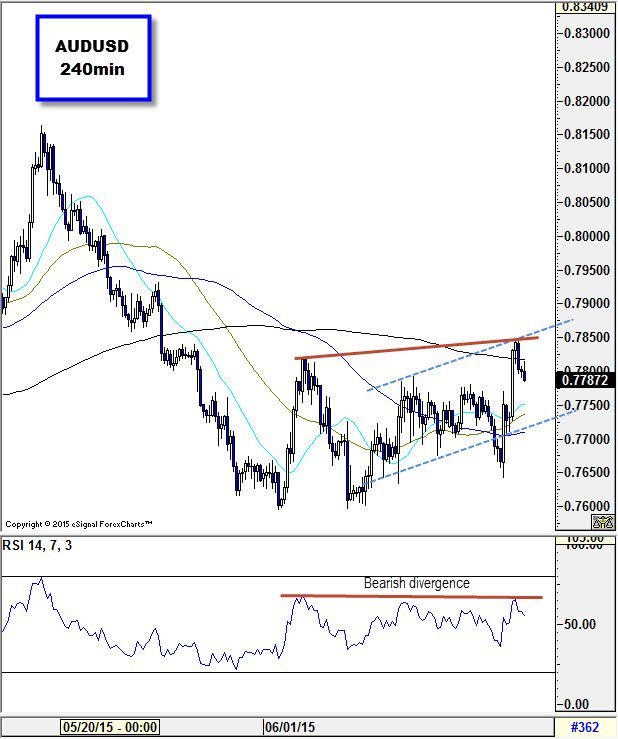 Source: FOREX.com