There's not much in the way of US economic data on the calendar today, but America's neighbor to the North made up for it with two top-tier data releases. Starting with the "good" news first, inflation came out better-than-anticipated, with the May Consumer Price Index (CPI) coming out at 0.6% m/m vs. 0.4% eyed and the Core CPI reading, which excludes volatile food and energy prices, printing at 0.4% m/m vs. 0.3% expected. Today's CPI beat marks the fourth time headline inflation has come out above the consensus expectations in the last five months.
Unfortunately, every rose has its thorn and today's blossoming Canadian CPI report came with a rather large thorn. The simultaneous Retail Sales report was surprisingly weak, showing a -0.1% m/m contraction in consumer spending in April, vs. an expected increase of 0.7%. The ex-autos report was even worse, falling by -0.6% and badly missing expectations of a 0.3% rise. It's worth noting that Canadian retail sales readings tend to be more volatile than the US versions, but no matter how you slice it, today's report bodes ill for the Canadian consumer and the economy as a whole.
Technical View: USDCAD
Based on the initial reaction, traders are putting more weight on the disappointing retail sales report than the slightly better-than-expected CPI reading. After hitting a low of 1.2125 yesterday, USDCAD rallied up to nearly 1.2300 in the wake of this morning's release. Taking a step back, the last three daily candles are currently showing a Morning Star* pattern; this relatively rare 3-candle reversal pattern shows a gradual shift from selling to buying pressure and is often seen at significant bottoms in the market. With the RSI indicator also breaking out of its bearish trend, there is a compelling case for the near-term rally in USDCAD to continue.
The next hurdle for bulls to navigate could be this week's high around 1.2350, but a successful break above that level could expose the 1.2500 level next. Meanwhile, the short-term bullish bias will remain intact as long as rates hold above the 61.8% Fibonacci retracement at 1.2160.
* A Morning Star candle formation is relatively rare candlestick formation created by a long bearish candle, followed a small-bodied candle near the low of the first candle, and completed by a long-bodied bullish candle. It represents a transition from selling to buying pressure and foreshadows more strength to come.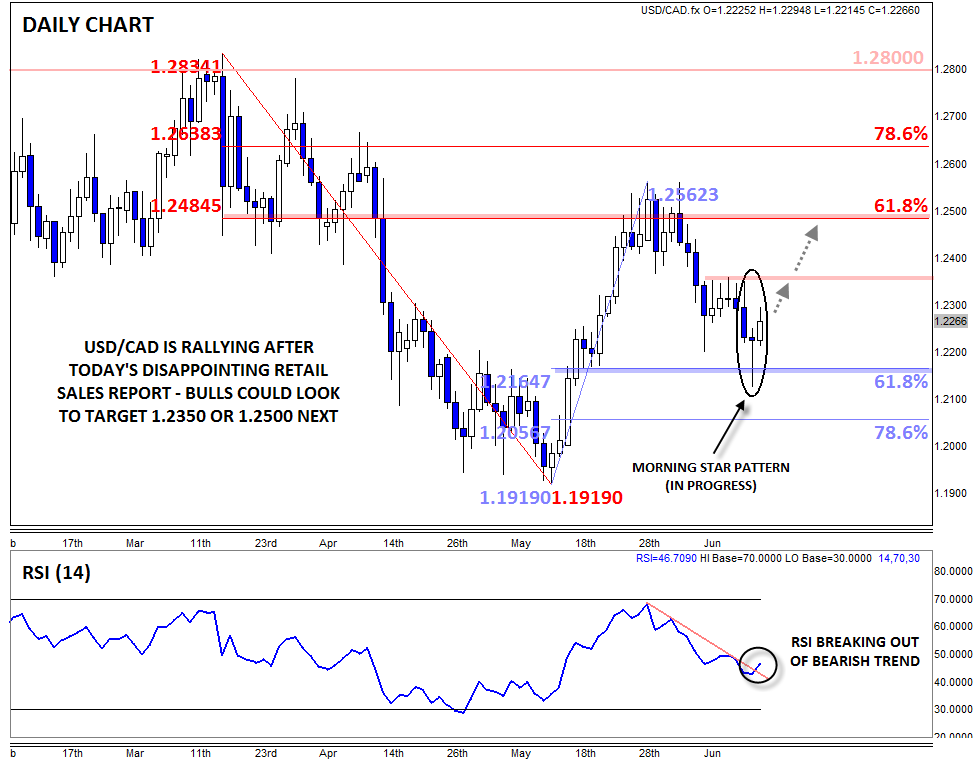 Source: FOREX.com
For more intraday analysis and market updates, follow us on twitter (@MWellerFX and @FOREXcom)