It has been an incredible couple of months for GBPNZD, underpinned by an almost complete reversal in monetary policy expectations for the UK and NZ. It wasn't long ago that Andy Haldane, chief economist at the Bank of England, suggested that the bank may have to cut interest rates in response to soft inflation. At the same time, New Zealand was still thought to be the front running post-GFC economy, with the Reserve Bank of New Zealand only recently shifting to a wait-and-see approach from a more hawkish one. It looked like GBPNZD was positioned to test 2014's low just above 1.9000. However, everything was about to change for GBPNZD as the outlook for interest rates in NZ began to deteriorate rapidly.
While pressure had been building on the NZD for a little while, the game-changer for the commodity currency was a speech by RBNZ Assistant Governor McDermott in late April. He stated that the RBNZ isn't considering hiking interest rates at this stage and weaker demand and inflation would prompt rate-cut talk. Since then the RBNZ cut interest rates for the first time in four years, citing low inflationary pressures and an expected weakening in demand. At the same time, the bank opened the door for even looser monetary policy later this year, with Governor Wheeler noting that further easing may be appropriate.
Meanwhile, a string of encouraging economic numbers from the UK has pushed the Bank of England in hawk territory, albeit only just. It seems that the BoE almost has all of its ducks in a row; the labour market is improving, including mild wage growth, and consumer prices have re-entered inflationary territory after a one-month stint below the line. The BoE's minutes last week even revelled a slight hawkish bias as it noted that the factors holding down inflation may only be temporarily.
Can the GBPNZD rally continue?
It's hard to be overly bullish given the recent moves in GBPNZD and the actual and potential divergence of monetary policy priced into the pair already. However, it's hard to see a fundamental reason for a sell-off either. On balance, we see a period of consolidation and profit taking, with a mild bearish technical bias in the short-term. In the long-run, the pair may resume its push higher on a further divergence of the monetary policies of the BoE and RBNZ, with eyes on 2.3300 and then 2.4150.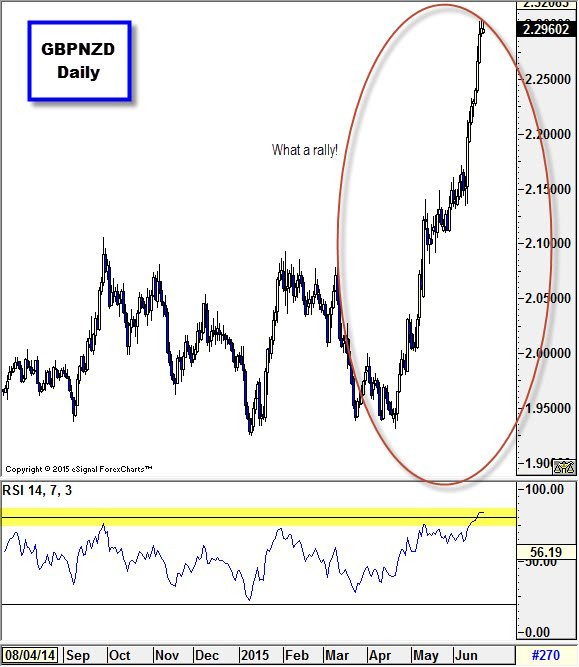 Source: FOREX.com