It has been an eventful session in Asia, especially for the Australian dollar. The aussie has been flung around by both local and Chinese economic data, as well a widespread push towards the US dollar. AUDUSD is now flirting with support around 0.7700 as investors ponder today's deluge of economic data, strong US housing numbers and the looming threat of a Grexit.
The Australia dollar began to slide overnight as the US dollar outperformed. Stronger than expected US existing home sales figures for May and risk adverse investor sentiment made the US dollar the currency of choice in the overnight session; a theme which broadly continues in Asia. The euro is getting hammered in Asia and EURUSD has even trigged some stops below 1.1300, propelling the pair to a low around 1.1260.
The path of least resistance for AUDUSD is lower
Meanwhile, the path of least resistance for AUDUSD clearly remains lower alongside potential increased monetary policy divergence between the US and Australia, with strong US economic data being weighed against softer than expected Australian housing numbers. Earlier today Australia's Q1 House Price Index rose less than expected at 1.6% (expected 2%), potentially providing the RBA with a little more room to lower interest rates. In these volatile and thin market conditions, this kind of economic data can easily spook the already vulnerable Australian dollar.
Not even stronger than expected manufacturing numbers from China could save the Australian dollar this time around. HSBC's June flash China Manufacturing PMI jumped to 49.6 from 49.4, beating an expected increase to 49.4. However, the index remains in contraction territory for the fourth straight month, after only a brief push into expansion territory in February. The only solace that the aussie can take from these numbers is that the loss of positive momentum in the economy this quarter increases Beijing's imputes to pump more stimulus into the economy, which should be good for growth in Australia's major trading partner in the long-run.
AUDUSD
The aussie hasn't broken any major support zones against the US dollar yet, but pressure is building on the risky commodity currency. The combination of widespread US dollar strength, backed by both tightened expectations for higher rates in the US and a risk adverse tone in the market, and the prospect of even looser monetary policy in Australia is a big weight for AUDUSD to carry. While it's hard to say exactly what is going to happen in the near-term, our long-term outlook for AUDUSD is somewhat bleak.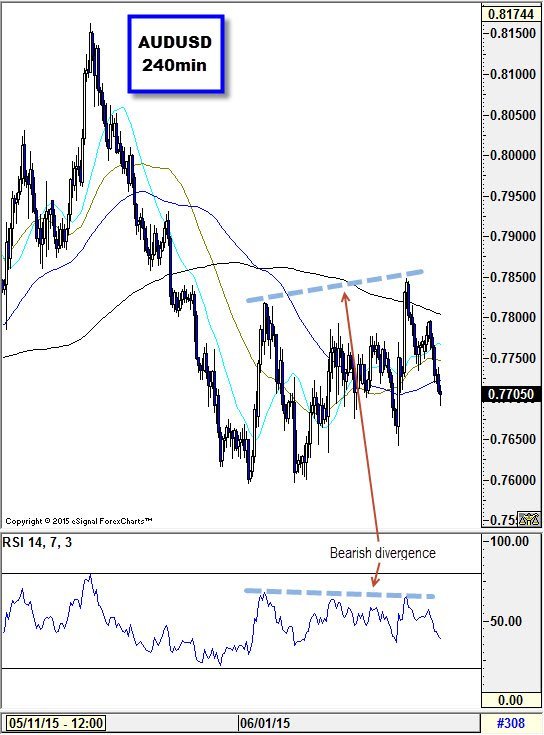 Source: FOREX.com