It has been a wild ride for Chinese equities lately, with the Shanghai Composite and Shenzhen Composite being mauled by bears last week and early this week. In fact, the Shanghai Composite was the worst performing equity market in the world last week, falling an astonishing 11.57%. The sell-off continued on Monday and then again on Tuesday morning, before a rally yesterday afternoon helped the aforementioned indexes to finish the day in black. The question now is, is the correction over?
The Shanghai and Shenzhen composite markets are dominated by retail and tech respectively, making them both very vulnerable to deteriorating investor sentiment and panicked selling. This was case last week and the beginning of this week, but even with the most recent sell-off leaves the Shanghai Composite up over 40% this year and the Shenzhen Composite is up more than 90% over the same period, making the latter the best forming major stock market in the world so far in 2015. However, these volatile conditions make investors nervous which means we cannot rule out another correction.
What's driving Chinese equities?
The drive towards Chinese equities has been driven by a reallocation of assets away from cash and property on the back of policy easing from both monetary and fiscal authorities, with trading volumes well above their historical averages. The People's Bank of China (PBoC) has been actively attempting to boost economic growth through numerous cuts to interest rates and a reduction in the amount of cash that banks are required to hold in reserve. Looser policy is making cash less attractive and debt cheaper, pushing investors into equities. At onetime this may have fuelled a push towards China's property market, and it's probably helping to stabilise prices this time around, but this isn't the case anymore. China's property market is still undergoing a severe correction and it's less risky, as easier for that matter, to park money in equities. This domestic reallocation of assets represents a major shift in the fundamental capital structure of the world's second largest economy; hence the massive gains in equity markets.
What's next?
The biggest problem with China's equity rally is that the market is looking very expensive given core fundamentals and its shaking underpinnings. A massive increase in margin borrowing leaves equities very vulnerable if liquidity dries up and/or debt becomes more expensive. However, the PBoC is expected to continue easing policy in the near-term, thus the rally in Chinese equities can theoretically go on but we're not overly bullish given how overvalued the markets are looking and how susceptible they are to panicked selling.
Techs: Shanghai Composite
It'll be interesting to see if price carved out a bottom on Tuesday just below 4,500. If so, bulls may take control of price once more and push it back above 5,000. However, if bears begin mauling the index once more price may test support around 4,000 in the near-term. On balance, we are slightly more bullish than bearish in the near-term, at least from a technical standpoint.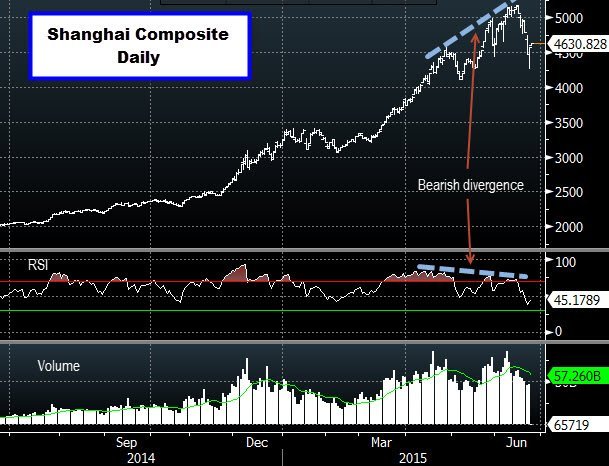 Source: FOREX.com, Bloomberg