It has been a volatile session in Asia for some currencies, with both AUDUSD and NZDUSD attempting to make a run for it as USDJPY sank. Asia's major commodity currencies were bolstered by news that Beijing was injecting around 35bn through 7-day reverse repos and the prospect of further stimulus as plans emerge that China may be moving to scrap a 75% cent loan-to-deposit ratio limit at banks. AUDUSD was propelled to short-term resistance around 0.7750 and NZDUSD stalled out just beyond 0.6920.
Meanwhile, USDJPY fell around 30 pips as the Nikkei also fell. This didn't break any major support zones but it highlights how nervous investors are when it comes to USDJPY. There has been a lot of chatter lately that the pair may be overvalued in the short-term and even whispers that the BOJ is getting uncomfortable with the yen's weakness. This opens the pair to some profit taking but we aren't looking for a major fall.
From fundamental perspective, the big threat to global risk appetite at the moment is the prospect of Greece being the first developed country to default on its debt if it fails to secure emergency funding from its creditors. It will be interest to see how this plays out in USDJPY as both currencies are traditional safe haven plays, but we tend to think that widespread US dollar strength would outweigh any moves towards the yen.
It's also worth keeping a close eye on Japan's inflation and employment numbers for May (due out at 0930AEST on Friday). Headline consumer prices are expected to rise 0.4% and we aren't looking for any growth in core-CPI, which represents a big drop for an already soft 0.3% increase in core consumer prices in the prior month. The present pace of inflation in Japan suggest that further stimulus may be needed to support domestic demand, while an even lower than expected set of numbers tomorrow may increase the motivation of the BoJ to expand its QQE program even more, which is generally yen negative.
USDJPY
As my colleague Matthew Weller explains here, USDJPY was looking somewhat strong from a technical perspective, but it recently failed to break through an important resistance zone around 124.50 which opens the door further downside in the short-term. As Matt pointed out, 124.50 is key!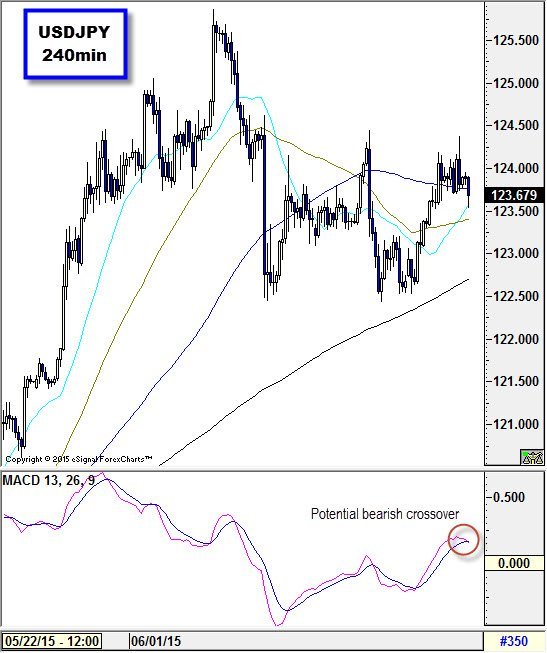 Source: FOREX.com