Consumer price growth in Japan beat expectations last month, but the threat of stagnant inflation remains. Consumer prices grew 0.5% y/y in May, beating an expected 0.4% increase. Meanwhile, core-CPI wasn't flat year-on-year, as the market was expecting, but core prices only grew 0.1% y/y which is less than the prior month's 0.3% y/y increase. Overall, it's easy to see why the market isn't very excited about these numbers as they are nowhere near the BoJ's official 2% inflation target, but the situation isn't as dire as the market was expecting and the main drag on inflation at the moment may be temporary if fuel prices recover.
There was good news from Japan's labour market, with the jobless rate remaining at an impressive 3.3% as the job-to-applicant ratio jumped to highest level in 23 years. There were 1.19 jobs for every applicant in May, which shows that the BoJ's massive stimulus program is finding its way into the real economy, but this is yet to translate into persistent positive wage growth.
Market reaction
The yen liked the numbers, with USDJPY sinking towards support just above 123.00. In the long-run we don't think the numbers will materially impact the value of the yen, after all inflation is still a long way from target and further BoJ easing cannot be ruled out.
NZDJPY
The push towards the yen has been felt the most against the kiwi, after the RBNZ once again stated that the kiwi is unjustifiably high. However, the NZ dollar regained some of that lost ground on the back of stronger than expected NZ trade numbers; NZ trade surplus was 350M in May, beating an expected 100M deficit after exports jumped 4.36bn (exp. 4.3bn) and imports only increased 4.01bn (exp. 4.3bn).
NZDJPY was pushed towards some sticky ground around 85.00. There are some technical signs that the pair may have further to full, especially if there's a confirmed bearish crossover in MACD on a four-hour chart; we're eyeing off support around 84.50…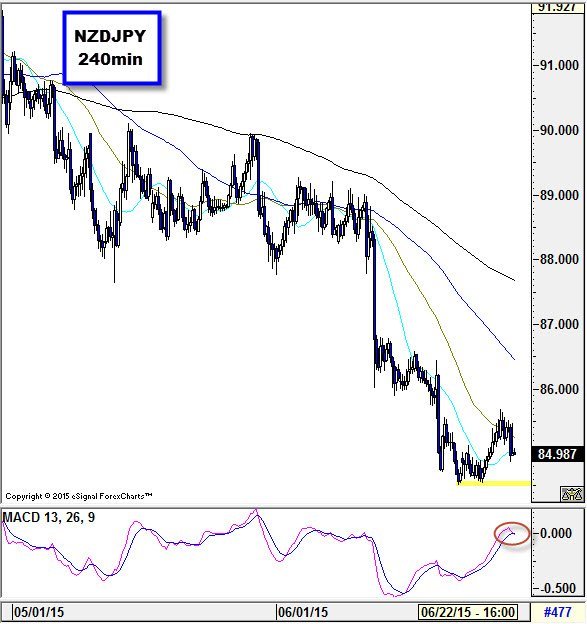 Source: FOREX.com