The constant barrage of Greek headlines continues unabated, with the latest batch of rumors suggesting variously that the "no" votes for this weekend's referendum are gaining momentum, that the Greek government will cancel this weekend's referendum, that a breakthrough deal between Greece and her creditors is imminent, and that the two sides are further apart than ever (see my colleague Kathleen Brooks' note from earlier today for the latest analysis of the ever-changing situation in Greece).
As if that wasn't enough, we're entering a critical 24 hours for US economic data, starting with this morning's release of the June ADP report. The widely-watched employment figure came out strong, showing 237k new jobs were created in June beating the market's expectation of a 219k reading and the revised 203k jobs that were created in May. By printing at its highest level since last December, the ADP report reminded traders that the US economy continues to chug along and provided a sharp contrast to the serious issues with the European economy. As we go to press, traders are eagerly waiting to see if today's Manufacturing PMI survey confirms the strength of the ADP report.
Technical View: USDCHF
While EURUSD has predictably weakened today, USDCHF is perhaps the more interesting currency pair to watch in today's US session. After breaking out from a near-term bearish channel last week, rates dipped back down to retest the top of the channel earlier this week before turning sharply higher over the last 24 hours. Now, the unit is trading at a nearly 1-month high above .9400, and with the MACD turning higher as well, the recent rally could easily stretch further.
If we see a strong Manufacturing PMI report (and especially, a strong NFP report tomorrow), USDCHF bulls could target previous resistance levels at .9475 or .9550 next. Even if USDCHF dips briefly around this week's US data or an improvement in Greece's debt negotiations, the bias will remain generally higher above the .9300 level.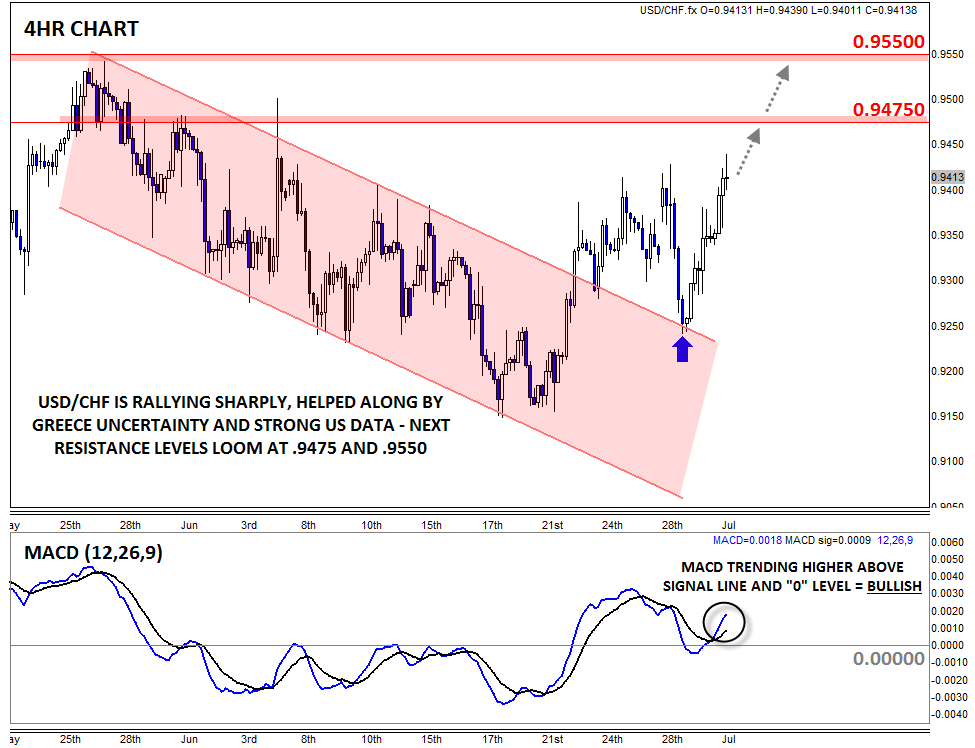 Source: FOREX.com
For more intraday analysis and market updates, follow us on twitter (@MWellerFX and @FOREXcom)