The NZ dollar has once again been assaulted on the back of soft economic data. This time around a disappointing dairy auction has poisoned investor sentiment surrounding the commodity currency. GlobalDairyTrade's Price Index dropped for eighth time in a row at its latest auction, falling 5.9% as milk powder prices plummeted. The news isn't good for the already stressed NZ dollar and it has pushed NZDUSD to a new five-year low.
The kiwi was already on the back foot due to a market-wide push towards the US dollar – eyes on Greece and tonight's US NFP numbers - and soft NZ business confidence data. The ANZ Business Confidence Index dropped into negative territory for the first time since March 2011 which was the same month that the official cash rate in NZ was sent back to a record low 2.5%, after a brief journey towards 3.0% in 2010. The index dropped to -2.3 from 15.7, which is a steep deterioration of sentiment in a very short period of time, and shows that business aren't comforted by the RBNZ's recent decision to loosen monetary policy, at least not yet.
Technical look: NZDJPY
Last week we highlighted some potential weakness in NZDJPY after it was rejected around 0.8570, and sure enough the pair has been mauled by bears this week. The pair is now at its lowest level since early February 2014 on combined NZD weakness and yen strength; the yen was the currency of choice earlier in the week for investors that were spooked by the situation in Greece. This sell-off may have further to go in the long-term; neckline support from a bearish head-and-shoulders pattern has been broken.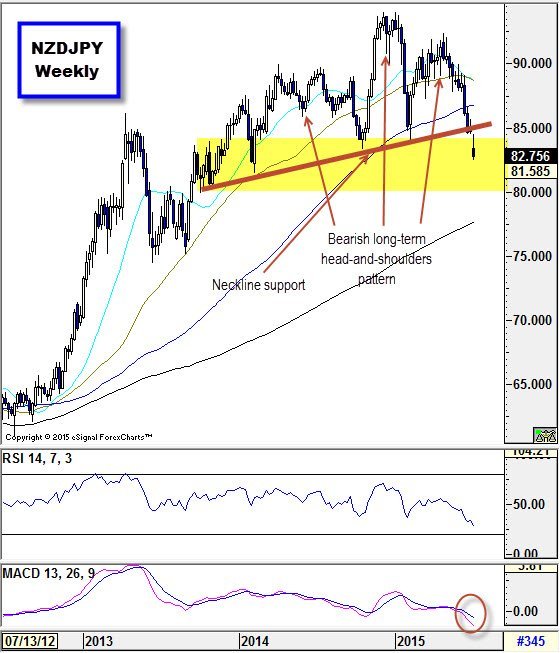 Source: FOREX.com