It has been an interesting session in Asia, with big moves across numerous assets classes. In the FX market, a rally in the US dollar in the overnight sessions initially continued in Asia, before tapering off mid-way through the session. One of the big movers overnight was USDJPY, with the pair rallying through 123.00 and onto a high just below 123.50. This retracement in the yen added to positive investor sentiment in Japan, sending the Nikkei 225 around 1.15% higher at the time of writing.
Across the Tasman, Australia's trade deficit shrank in May to 2.75bn from a revised 4.14bn in April, missing expectations. AUDUSD briefly dipped lower on the back of the data, before a widespread retracement in the US dollar helped to keep the pair afloat. From here, the pair, like the entire market, will be keeping one eye on Greece and the other on tonight's employment numbers from the US.
• The market is expecting Nonfarm Payrolls to have increased 233K in June, after an impressive 280K jump in the prior month. The unemployment rate is expected to have dropped to 5.4% from 5.5% and average hourly earning growth may have slowed to 0.2% from 0.3% over the same period. If these numbers beat expectations, or even meet them, it may encourage US dollar bulls. The reverse may be true if the numbers disappoint – the headline NFP and wage growth numbers are the most important in our opinion, but the others figures shouldn't be ignored.
AUDJPY
The moves in both the aussie and yen this weak have pushed AUDJPY through an important level; one which has separated bulls and bears. The aforementioned widespread retracement in the yen provided AUDJPY with an opportunity to break back above this zone, before Australia's soft trade numbers hit the aussie. While price is below this level our technical basis remains lower, with our eyes on support around 92.50.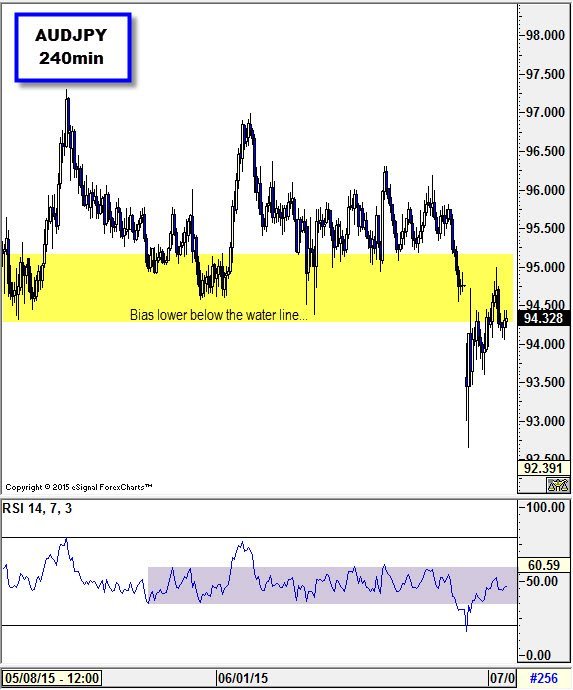 Source: FOREX.com