It has been another eventful day in Asia, with a monetary policy meeting in Australia and another massacre of Chinese equities. The Reserve Bank of Australia (RBA) left the official cash rate at 2.0% as expected, citing already accommodative monetary policy. The bank reiterated that the Australian dollar should fall further given significant declines in key commodity prices but it remains in wait-and-see mode.
The RBA's policy meeting was largely a non-event for the Australian dollar. There was a slight tremble in AUDUSD, but it was very short-lived and the pair is actually pressing higher in the aftermath of the RBA's announcement. However, the commodity currency remains under pressure due to an ongoing massacre in Chinese equity markets, which is partly responsible for 5.4% fall in the spot price of iron ore overnight. The Shenzhen and Shanghai Composite Indexes are down another 3.2% and 5.8% at the time of writing, with the former now only up just over 13% YTD.
Over the weekend, Beijing froze new share listings and setup a fund to stabilise markets, after already significantly loosening monetary policy in response to the turmoil in China's stock markets. However, it doesn't appear to be working , thus it has been followed up today by a tide of A-listed Chinese companies suspending their shares from trading; the total amount of suspended stocks now stands at around 25% of all companies listed on the Shanghai and Shenzhen exchanges. Most of these are smaller stocks that are being hit the hardest, but it hasn't prevented the rest of the market from tanking. If this bloodbath continues much longer it may poison investor sentiment in other parts of Asia.
AUDUSD
AUDUSD is making a home below 0.7500, after dropping to a fresh five-year low yesterday. From a technical perspective, AUDUSD is still looking a little weak, but there are signs of life above 0.7500. If price breaks above this level we'll be watching 0.7535 and then 0.7590. On the downside, 0.7450 is the new level to watch…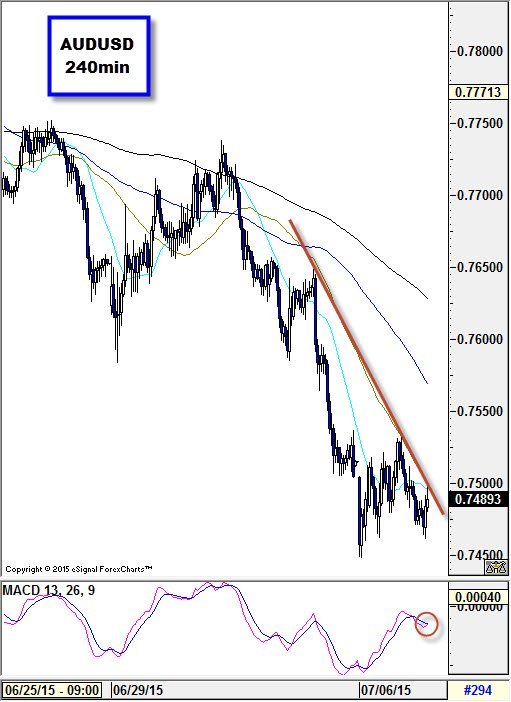 Source: FOREX.com