The Shanghai Composite has been mauled by bears once more, despite the protection of the PBoC. It opened around 7% lower and was pushed over 8% into the red at one point. The index has since regained most of the lost ground, but it remains almost 4% below its closing level at the time of writing. Even more worrying is the fact that the exchange has fallen a staggering 30% in under a month.
For most of the year Chinese stock markets have been surging higher due to a reallocation of assets away from cash and property on the back of increased leverage and policy easing from both monetary and fiscal authorities. The People's Bank of China (PBoC) has been actively attempting to boost economic growth through numerous cuts to interest rates and a reduction in the amount of cash that banks are required to hold in reserve. Looser policy makes cash less attractive and debt cheaper, pushing investors into equities.
A rapid rise in an equity index is always going to raise a few alarm bells, and this is especially true for rallies that are fuelled by margin lending, as is the case for Chinese equity markets this year. The ensuing sell-off has gotten so serve that it has begun to infect markets in other parts of Asia. Not only has it soured enthusiasm for equities throughout the region, it has caused a fundamental shift in risk appetite in the FX market. Commodity currencies, like the aussie and kiwi, are being hit the hardest, while the dollar and yen attract safe haven flows; the attractiveness of the latter is further tainting investor sentiment in Japan.
When will the sell-off end?
Beijing has been trying very hard to calm equity markets in China, but with little effect. It has followed up recent policy loosening by the PBoC with a fund aimed at injecting some much need capital into equity markets and other moves to calm nervous investors, but the market is panicking as over 50% of listed companies freeze their shares. If this continues much longer it may only be a matter of time before the entire market is suspended.
Despite the recent massacre, the Shanghai Composite has still risen around 75% in the last 12 months. One could argue that this simply means there's room for further downside, but the PBoC still has a significant amount of room to sure up support for the Index and the market cannot ignore this forever. From a technical standpoint, 3000 is the next major horizontal and psychological support level, although it may take a lot to get price to this level.
Shanghai Composite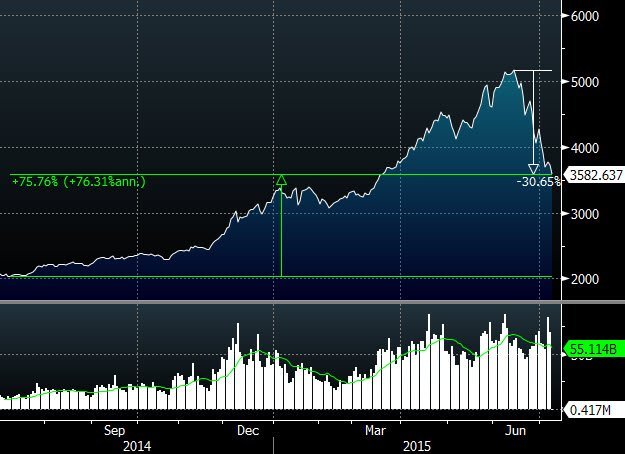 Source: FOREX.com, Bloomberg