Investors in Asia are cheering as bargain hunters lead a reversal of fortunes for Chinese equities, with the Shanghai Composite up around 5% at the time of writing after dropping approximately 3.2% at the open and around 32% in the last month. Investors are reversing an earlier push towards safe haven currencies like the yen, with so-called risk currencies lead the charge in Asia. Backed by strong Australian employment and Chinese inflation figures, the aussie is the biggest beneficiary in the FX world after being hit hard by the sell-off in China's equity markets in recent weeks (see: A glimmer of light on the horizon for AUDUSD).
Major equity markets in Asia are also rallying today
The ASX 200 and the Hang Sang have managed to claw back into positive territory after opening in the red, while the Nikkei 225 is almost flat after dropping over 3% shortly after coming online today; the latter market is still suffering due to a still strong yen. Although today's rally in Asia is encouraging, it's worth noting that it's not a game-changer. After all, China's equity exchanges have a lot of lost ground to make up and there's still the looming threat of a Greek exit, thus investors are likely to remain fairly nervous heading into the end of the week.
Nikkei 225
The Nikkei is particularly in-tune with investor sentiment, partly because of the attractiveness of the yen as a safe haven play. If this rally in China turns out to be more than just a bit of bargain hunting and Greece can find some common ground with its creditors, we may see a more meaningful retracement in the yen which could encourage Nikkei bulls (the index is down around 8.8% from its high in June). 20,000 is a very important level for the index, and a break back above here would push our technical bias back into bullish territory – a bearish head-and-shoulders pattern has been completed.
Nikkei 225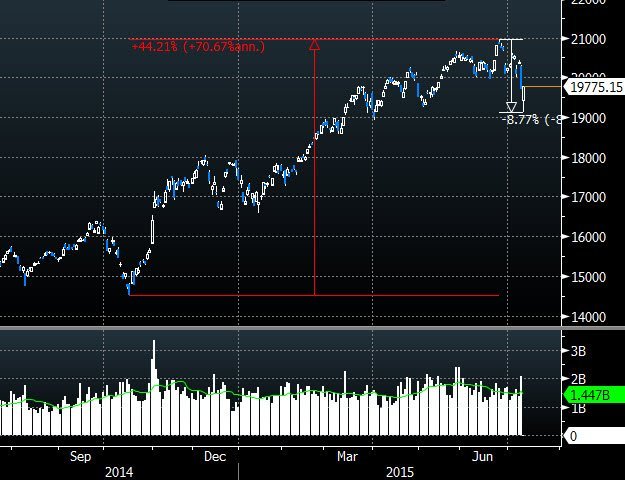 Source: FOREX.com, Bloomberg