Markets are relatively optimistic as the sun rises on a new trading day, with investors holding out hope that a Greek debt deal will be reached this weekend and that China's perilous stock market drop has been arrested. Whether this optimism proves to be warranted remains to be seen, but for now traders are taking profits on some of the bigger swings from earlier in the week, with USDJPY bouncing back to 121.50, the commodity dollars recovering from oversold territory, WTI oil clawing its way back to 53.00 and equity markets bouncing off their lows.
One short-term trend that remains healthy is the bullish move in USDCHF. The pair has tacked on about 350 pips over the last three weeks, but lately the rally has stalled out against key psychological resistance at .9500. Indeed, the 4hr chart (below) shows that rates have been rejected from this level no less than four times over the last week, but much like a primeval battering ram repeatedly slamming against a castle gate, bulls are starting to wear down the .9500 barrier.
The market equivalent of this analogy is an ascending triangle pattern, which shows growing buying pressure, as bulls step in at higher and higher levels following each successive dip. This pattern, if confirmed by a bullish breakout above the .9500 level, would suggest a strong continuation higher. The concurrent uptrend in the RSI indicator bolsters the case for a topside breakout, as does the medium-term rounded bottom formation that formed throughout the month of June.
If bulls are able to overcome .9500 resistance later this week or early next week, a 100-pip rally up to the longer-term 38.2% Fibonacci retracement near .9600 could be in play next. Only a break below the near-term bullish trend line (currently at .9430) would signal that bears are successfully defending the .9500 barrier.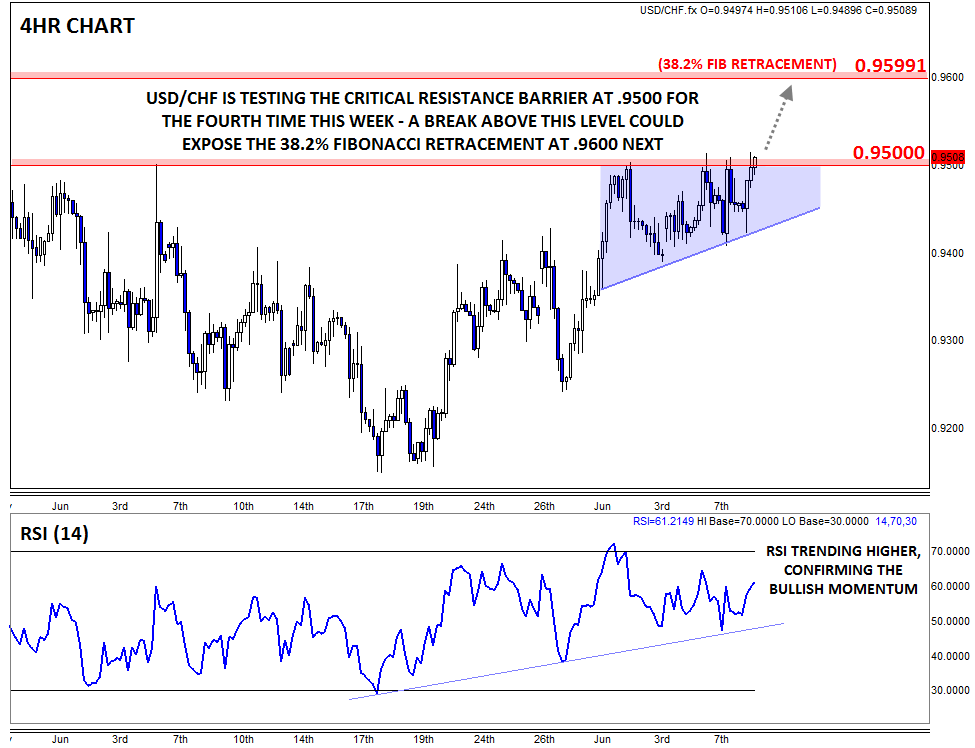 Source: FOREX.com
For more intraday analysis and market updates, follow us on twitter (@MWellerFX and @FOREXcom)