As this report goes to press, Greek Prime Minister Alexis Tsipras is preparing to send Greece's latest bailout proposal to its creditors. According to leaked documents, Tsipras is "ready for compromises," suggesting a more conciliatory posture from the left-wing government, though that's no guarantee of a compromise heading into this weekend's final ultimatum, especially with sticky topics like the VAT on tourist islands and pension benefits still to be ironed out.
One of the biggest losers from the ongoing Greek debt drama has been EURJPY, which has been hit both by euro weakness and strength in the safe-haven yen. The widely-watcher pair has faded from testing 61.8% Fibonacci retracement resistance up at 141.00 throughout mid-June all the way down near 134.00 as of writing, and based on the secondary indicators, rates may have further to fall from here. The daily MACD indicator recently crossed below its signal line and the "0" level, showing a shift to outright bearish momentum for the first time since late April, and the RSI indicator is not quite in oversold territory, signaling that rates may still have further to fall.
Of course, headlines and the eventual decision about Greece will be the near-term driver of the pair: if comments from Greece's creditors tomorrow are downbeat, EURJPY could slice through support at the 50% Fibonacci retracement (133.55) on its way down to the 61.8% retracement at 131.80 or lower. On the other hand, constructive rhetoric and most importantly, an agreement over the weekend, could trigger a short-covering rally toward 136.00 or higher early next week. Either way, EURJPY traders should brace for volatility around this weekend's critical decision on Greece.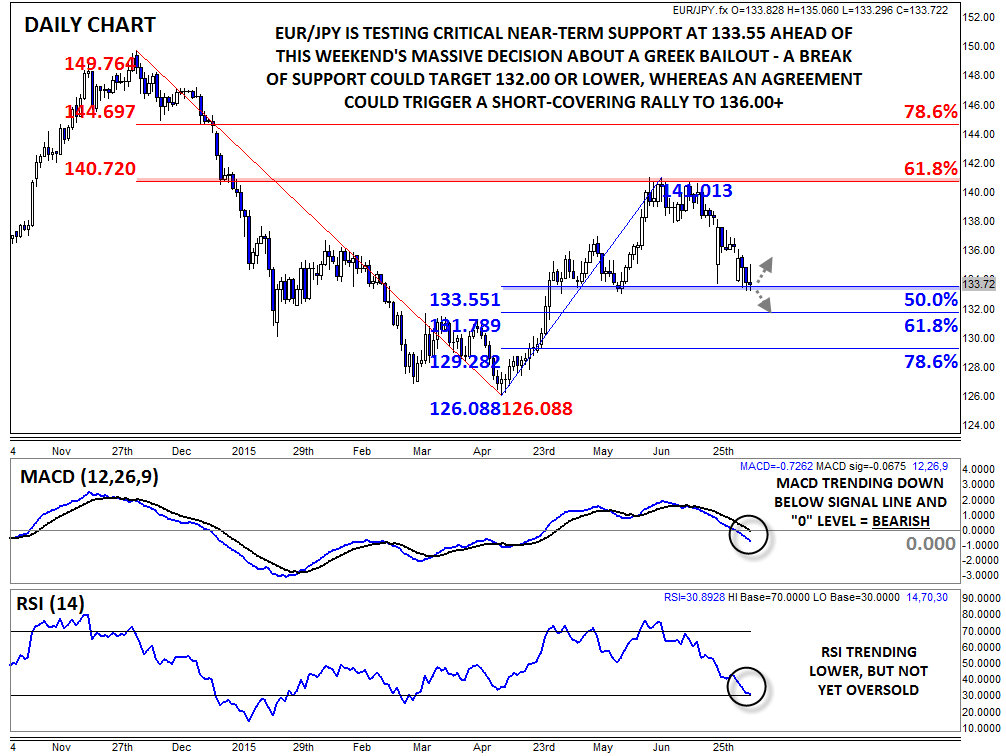 Source: FOREX.com
For more intraday analysis and market updates, follow us on twitter (@MWellerFX and @FOREXcom)