The market's fears of a Grexit, which peaked midway through last week, are now fading after Greek Prime Minister Tsipras seemingly caved to creditors' demands on a number of key points (insert all-too-easy "Pyrrhic victory" reference here). As a result, global markets are seeing a risk-on bid, though the traditionally conservative US dollar is also in rally mode today. Meanwhile, trade in emerging market currencies is relatively subdued, with some of the widely-traded EM currencies (TRY and ZAR) are outpacing the dollar's gains while others trail (RUB, SGD, MXN).
With a relatively quiet economic calendar on tap for most emerging markets this week, we wanted to take a longer-term look at the USDMXN currency pair, which continues to hold at its all-time high after breaking out at the start of this month. Economic data from Tierra Azteca has been mixed of late, with the HSBC Manufacturing PMI dipping to 52 in June (from 53.3 in May), Consumer Confidence rising to 94.7 in June (a nearly 2-year high), inflation holding steady at 2.87% year-over-year, and May Industrial Production unexpectedly dipping to -0.9% year-over-year (vs. 1.1% in April). As ever, the Mexican economy remains dependent on its neighbor to the North, so peso bulls are eagerly anticipating an acceleration in US economic data in the second half of the year.
As we mentioned earlier, the USDMXN recently hit a record high above 15.65, though the bulls have lost their drive over the last two weeks. The waning momentum can be seen in both the MACD indicator, which is rolling over to cross back below its signal line, and the RSI, which formed a small bearish divergence at the recent highs.
With the focus now turning away from Greece and China and back toward relative economic performance, USDMXN could see a short-term pullback. The key technical area to watch this week is previous-resistance-turned-support in the 15.60 to 15.65 zone; if that area gives way, a deeper pullback toward the middle of the recent range near 15.20 is likely. Of course, as long as the pair holds above that level, traders will remain cautiously optimistic, with the potential for a short-term thrust up toward 16.00 on strong US data or weak economic news from Mexico.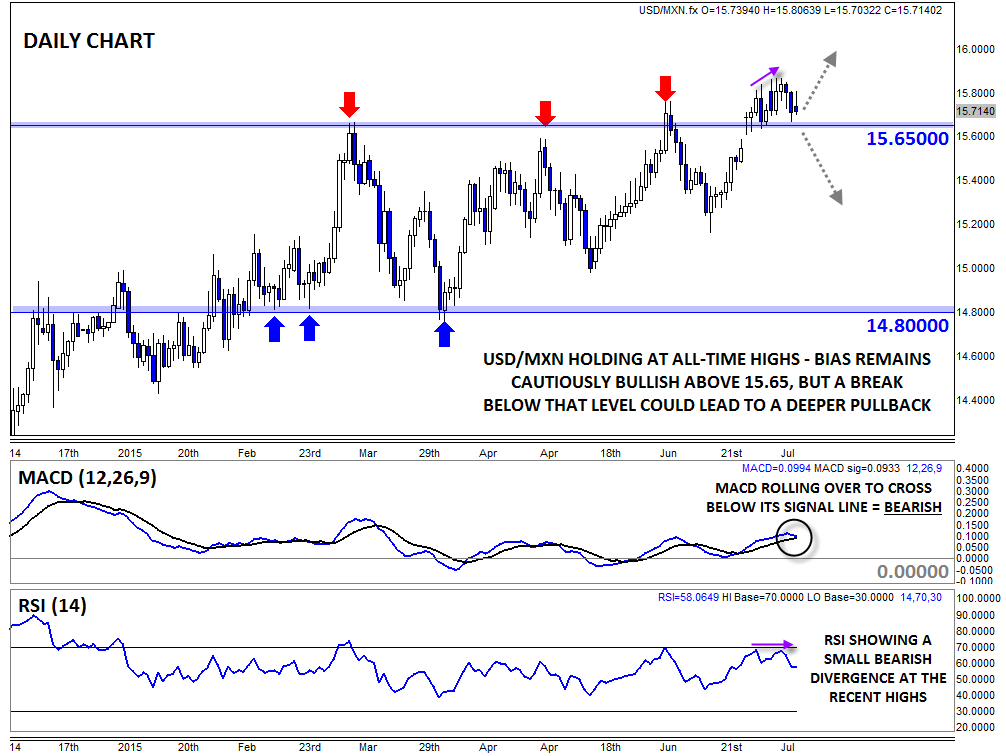 Source: FOREX.com
For more intraday analysis and market updates, follow us on twitter (@MWellerFX and @FOREXcom)