China's economy grew at a faster than expected pace in Q2, backed by sustained policy loosening from Beijing. The economy expanded 7.0% y/y last quarter, beating an expected 6.8% y/y growth rate and matching the prior quarter's expansion. The good news continued with better than expected retail sales, industrial production and fixed asset investment figures for June. This led to a rally In the China-sensitive Australian dollar, with AUDUSD briefly pushing through 0.7480.
Industrial production and retail sales jumped 6.8% y/y and 10.6% y/y respectively, beating expected increases of 6.0% and 10.2% respectively. This shows that the broader economy is responding to the PBoC's recent easing cycle, which has included four cuts to interest rates totalling 1% and a reduction of the amount that banks are required to hold in reserve by 1.5% over the same period. Overall, today's torrent of economic data paints a better than expected picture of the economy, but it also means the PBoC may be less motivated to loosen monetary policy further.
Strong GDP numbers are bad for equities
The drive towards Chinese equities has been driven by a reallocation of assets away from cash and property on the back of policy easing from both monetary and fiscal authorities, with recent trading volumes well above their historical averages. As we have already stated, the PBoC has been actively attempting to boost economic growth through numerous cuts to interest rates and a reduction in the amount of cash that banks are required to hold in reserve. Looser policy makes cash less attractive and debt cheaper, boosting economic growth and pushing investors into equities.
However, as the economy strengthens it becomes more and more dangerous for the PBoC to loosen monetary policy further. The central bank risks overheating the economy if it continues to stoke it at such a rapid pace, which is a bad thing for an equity rally that has been built on hopes policy easing. This is evident in price action in Shanghai today, with the local stock exchange down around 2.3% in the red following the release of today's better than expected economic data. Nonetheless, this doesn't indicate that the sell-off will reach the same level of intensity it has over the last few weeks, after all price and fundamentals are much closer together then they were only a few weeks ago; the index may have created a new home between 3,500 and 4,000.
Shanghai Composite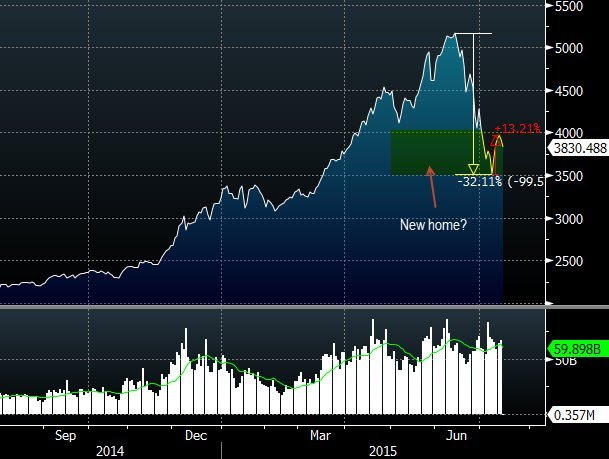 Source: FOREX.com, Bloomberg