For traders who weren't paying close attention, it was easy miss today's Bank of Japan meeting in the cacophony of today's other high-impact news releases. And while the central bank did not make any changes to monetary policy, as anticipated, the bank's policy board did ratchet down its expectations for growth and inflation, with potentially important implications for later this year.
The BOJ's median forecasts for GDP growth this year edged down to 1.7% in today's meeting, down 0.3% from the 2.0% growth expected in April. More importantly, the central bank marginally revised its inflation expectations lower, with the central bankers now anticipating core CPI to come in at 0.7% in fiscal year (April-March) 2015 and 1.9% in fiscal year 2016; each figure was just 0.1% lower than the median expectation in April's BOJ meeting. In fact, the negative revisions were less severe than many traders have expected, showing the central bank still expects to approach its 2% inflation target as soon as next year.
We remain more skeptical in the Japanese economy's ability to generate inflationary pressure in the near-term, and based on the market reaction, traders initially agreed. The yen broadly edged lower in the immediate aftermath of the release, with USDJPY ticking above 123.50 and GBPJPY briefly tagging a three-week high near 193.50, though those early yen losses have since faded.
Taking a step back, GBPJPY remains on the precipice of the big 200 pip bearish gap from late June. Many traders believe that such gaps can act as magnets until they are "filled," which in this case would entail an eventual rally back up to 195.00. Looking to the secondary indicators generally bolsters the short-term bullish case: the MACD has turned higher and is about to cross both its signal line and the "0" level, while the RSI indicator has also bounced back strongly from last week's brief oversold level, though it's still far from overbought.
For the rest of the week, GBPJPY traders will be hyper-focused on the 193.50 level, as a break through this barrier may herald a gap-filling rally up toward 195.00 at least. Above that level, traders may target June's 7-year high at 195.85. Meanwhile, a rejection at the 193.50 barrier could lead short-term bulls to take profits on their trades and take the unit back down toward 190.00.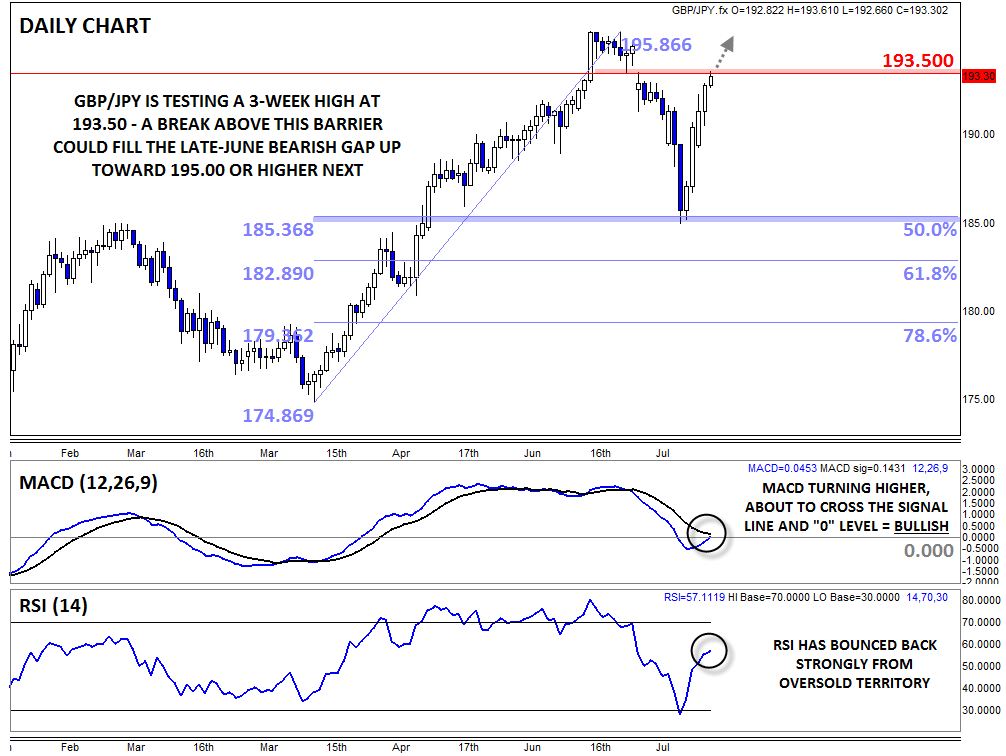 Source: FOREX.com
For more intraday analysis and market updates, follow us on twitter (@MWellerFX and @FOREXcom)