We have mentioned in recent days that financial markets have become less confident that the Federal Reserve will hike interest rates this year. However, Janet Yellen, the head of the Federal Reserve, maintained her call that rates could rise in the US, when she delivered her Humprey Hawkins testimony to the US Congress earlier on Wednesday.
Most Fed officials expect at least one hike this year, with some expecting two or more, however, the Fed Funds Futures market, a good gauge of where the market thinks US interest rates will be, is still barely pricing in one rate hike by the end of the year.
The market gets cold feet about Fed rate hikes:
In fairness, "hawskish" commentary from Yellen, which included her view that the economy will continue to expand for the rest of this year, that inflation rates have "firmed recently", and that external risks such as Greece and China are not, at this stage, a threat to the Fed's plans to hike rates this year, have triggered a slight increase in the yield on the Fed Fund Futures December contract, but not by much, only 2 basis points. Currently, the Dec 15 contract is pricing in 30 basis points of hikes, the equivalent of 1 x 25 basis point hike this year, as you can see in the chart below. This still suggests that the market is sceptical about a Fed rate hike in September.
If we see a pick-up in US economic data in the coming weeks then we could see the markets price in further tightening from the Fed later this year, which may sustain the rally in the buck that we have seen since Yellen's testimony was released on Wednesday.
Watch out for long-term rate expectations:
However, to really see a turbo-charged dollar rally, we think that we need to see the market price in more rate hikes by the end of 2016. Currently, the market expects US interest rates to end 2016 at just over 1%, which would be three interest rate hikes over the entire year. However, if the economic data continues to pick up then we would expect a much more rapid pace of rate hikes, with rates next year potentially ending up more than double the current level of expectations at 2% or above. If, or when, this happens then we could see a prolonged dollar rally, with the EUR and JPY most at risk, since their central banks remain committed to loosening monetary policy for the medium-term.
The impact of an extended dollar rally:
Thus, if we see the market's long term rate hike expectations start to rise, we could see the dollar index extend gains above 100.00, and possibly towards 120.00 in the long-term. Likewise, if the Fed Funds Futures market starts to get more hawkish in the coming days then this could drive EUR/USD back to parity and USD/JPY to life above 130.00.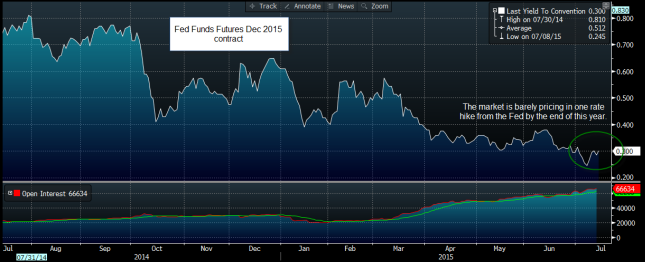 Source: FOREX.com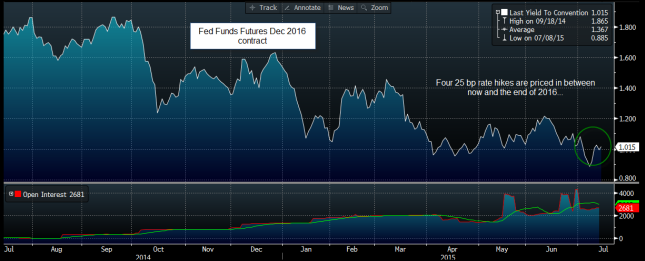 Source: FOREX.com