Greece's parliament has passed a bailout agreement in order to receive as much as 86bn euros in aid from its creditors. This only led to a very brief and insignificant rally in the euro, as the market was largely expecting the measures to pass through parliament. However, compared against the NZ dollar, the euro is doing very well as EURNZD retests a one-year high after some soft NZ economic data. In fact, the pair has gained over 2,500 pips in just over two months as the chance of another rate cut from the RBNZ next week is raised to 100% according to the OIS market, which could pave the way for a push towards 1.7000…
The kiwi has been mauled by bears once more
The kiwi's demise this year due to a complete reversal in NZ's monetary policy expectations has made it the worst performing major currency against the US dollar since late April, by a long shot. NZDUSD has now fallen over 13.5% over this period; the next currency in line for the lowest position is the Norwegian Krone, but it has only fallen around 7.7% against the US dollar.
The latest pound of flesh has been stripped from the kiwi due to a very soft dairy auction, a 5.0% fall in consumer confidence in July and some disappointing local inflation numbers. As my colleague Matthew Weller explained here, NZD has been crying over spilt milk. At GlobalDairyTrade's (GDT) latest auction dairy prices fell 10.7%, the ninth time in a row that prices have fallen at auction, which is bad news for the dairy-backed NZ dollar.
The sell-off was compounded by some softer than expected inflation numbers for last quarter. Non-tradables inflation was only up 0.1% in Q2, its slowest pace since late 2009. Headline CPI jumped 0.4% q/q, missing an expected 0.5% expansion. Year-on-year inflation growth remains depressed at 0.3%, although this is better than the prior quarters 0.1% y/y fall. The RBNZ is now free to cut interest rates further in attempt to stimulate economic growth and both corporate and consumer confidence.
The euro ignores Athens' 'Yes' vote
PM Tsipras had to seek support from the other side of bench, after 38 members of his government voted against the bailout plan. While the vote easily passed – 229 of 300 MPs voted for the package - Tsipras is going to have to fight to remain at the helm of the ruling Syriza party. The euro was unimpressed by the predictable result and EURUSD looks to be carving out a home below 1.1000 during the Asia session.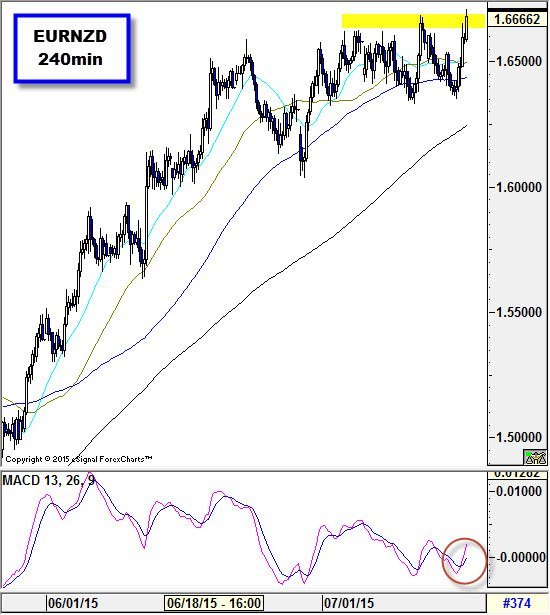 Source: FOREX.com