It's amazing what a new week can bring. At this time last week, EURGBP bulls had the upper hand after driving the normally-staid pair up 200 pips from the.7000 level. Now, the bulls are on the run after a 200 pip bearish rout this week, and the European cross recently hit a fresh 7.5-year low down at .6970.
With traders across the globe starved for yield, it's not surprising that the big move in EURGBP has been driven by a big shift in relative interest rate expectations. As my colleague Kathleen Brooks noted earlier today, the European Central Bank's primary focus will be on recapitalizing Greek banks for the near-term, meaning that the banks ultra-accommodative monetary policy is likely to remain in place for the forseeable future.
By contrast, the Bank of England shocked markets at the beginning of this week by striking a hawkish tone. On Tuesday, BOE Governor Carney expressed his opinion that "The point at which interest rates may begin to rise is moving closer given the performance of the economy" and noted that "wages are beginning to grow, interest rates are at historically low levels, and so households should begin to manage their finances with the assumption that there should be an upward adjustment in interest rates." This sentiment was echoed by outgoing Monetary Policy Committee member Miles, who explained that "The time to start normalisation is soon; that is not something to shrink from." In a market that had priced out any chance of a BOE rate hike this year, Tuesday's comments led to a big rally in the pound as traders shifted their rate hike expectations forward.
Technical View: EURGBP
As we noted above, EURGBP edged down to a new 7.5-year low beneath key psychological support at the .7000 level earlier today. Not surprisingly, the secondary indicators are also painting a bearish picture: the MACD has rolled over and is now trending lower below its signal line and the "0" level, while the RSI indicator continues to put in lower lows and is peeking below previous support near the 40 level.
If the break below .7000 is confirmed by a daily close near current levels, another bout of weakness will be favored heading into next week. Even on a longer-term chart, there is not much in the way of previous support until the January 2007 lows in the .6500-.6600 zone. More immediately, short-term traders should monitor the Fibonacci extensions at .6885 (127.2%) and .6725 (161.8%). As long as the pair remains below last week's high around .7200, the technical bias will remain to the downside.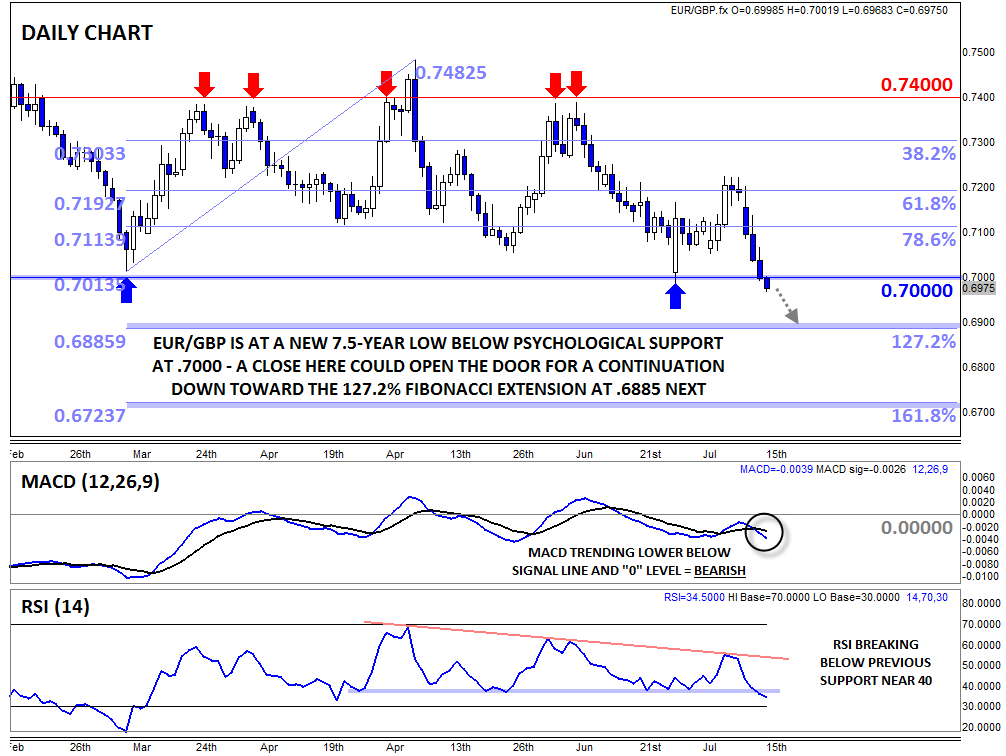 Source: FOREX.com
For more intraday analysis and market updates, follow us on twitter (@MWellerFX and @FOREXcom)