Last week we successfully anticipated a pullback in AUDNZD after it hit a wall of resistance around 1.1400. It went on to test support just above 1.1100 around the base of its medium-term trading channel, before making its way back to do battle with resistance around 1.1400 once more, but this time it looks ready.
The NZ dollar has been assaulted by bears lately on the back of falling commodity prices and a complete deterioration of the outlook for interest rates in NZ. NZDUSD has now fallen around 14.5% since the end of April when RBNZ Assistant Governor McDermott introduced the idea of lower interest rates in NZ. Since then the RBNZ has cut the official cash rate to 3.25% and we are expecting at least one more cut in the near-term. It's widely expected that the bank will reduce the OCR by another 25 basis next and may follow this up with 25-50bps of cut/s later in the year.
This dovish view is being supported recently by a very soft dairy auction, a 5.0% fall in consumer confidence in July and some disappointing local inflation numbers. GlobalDairyTrade's (GDT) latest auction, released on Wednesday night, dairy prices fell 10.7%, the ninth time in a row that prices have fallen at auction, which is bad news for the dairy-backed NZ dollar. The sell-off in NZD was compounded by some softer than expected inflation numbers for last quarter. Non-tradables inflation was only up 0.1% in Q2, its slowest pace since late 2009. Headline CPI jumped 0.4% q/q, missing an expected 0.5% expansion.
Meanwhile, the Australian dollar has benefited in recent sessions as the market assess whether its recent sell-off has gone too far. There are some in the market that now expect the next move from the RBA to be a tightening of monetary policy, albeit not for a while, which would be a big positive for the aussie, especially against a currency with a bleak monetary policy outlook, like the kiwi. However, the economy is still too deep in almost recessionary conditions to see the prospect of higher interest rates – activity in non-manufacturing parts of the economy still has to pick up the slack being left behind by diminishing mining investment – which means if Australian economic data doesn't pick up this story will be gone before it really gets started.
From a technical perspective, AUDNZD remains in a medium-term upward trend, but it needs to push through a tough resistance zone between 1.1400-1.1500 at some stage if it's to continue higher. Given the weak fundamental backdrop of the kiwi this may happen soon, but it all rides on the RBNZ's policy meeting on Thursday. This kiwi weakness story is dependent on a dovish outlook for NZ interest rates and the RBNZ's belief that the kiwi is overvalued, a view which should be reinforced next week.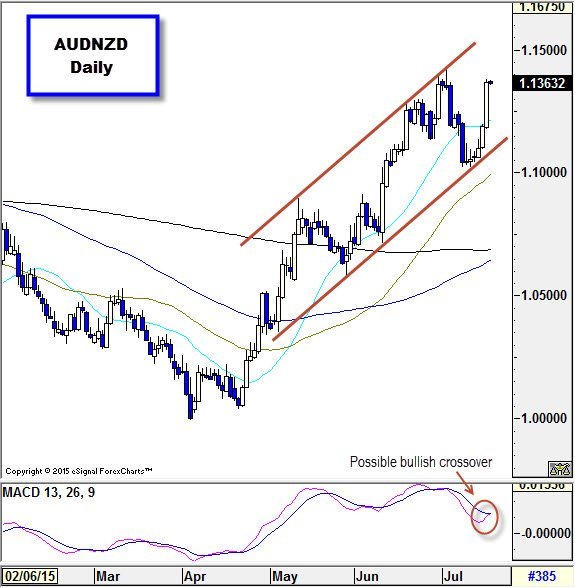 Source: FOREX.com