After a very eventful few weeks for the FX market, things may quieten down slightly this week. Greece looks safe in the eurozone and China's stock markets appeared to have stabilised, at least for the time being. The market has turned its attention to a big week for US earnings, with around 100 of the S&P 500's member companies due to release results this week.
Nonetheless, some important economic data out of Australia this week may help to clear the outlook for interest rates. There's a lot of chatter in the market that the Reserve Bank of Australia (RBA) may not need to loosen monetary policy further, despite falling commodity prices and a soft outlook for business investment. The unemployment rate hasn't fallen off a cliff, as previously feared, and headline GDP growth is better than its commodity-based peers, like Canada and NZ.
The deciding factor may be the pace of inflation, with Q2's numbers due out on Wednesday (1130AEST). The market is expecting headline CPI growth to increase 0.8% q/q and 1.7% y/y, beating Q1's numbers. However, core inflation is expected to have slowed last quarter to around 2.1% y/y from 2.3% y/y, just within the RBA's 2-3% target range. If the pace of inflation slows any further it would likely force the RBA into a more dovish stance, while a pick-up in consumer prices may drown out calls for looser monetary policy in the near-term – the market puts the prospect of at least one more 25bps cut this year at around 60%.
What does this mean for AUDUSD?
AUDUSD is currently hovering around a six-year low after punching through an important support zone around 0.7500 at the beginning of the month. The pair has fallen just over 10% this year, but some long-term technicals are pointing towards a possible reversal in the near-term. If Australia's Q2 CPI numbers beat expectations it may trigger a retracement in AUDUSD as the market discounts the possibility of further policy loosening from the RBA; it's also worth keeping an eye on the release of the RBA's latest meeting minutes (1130AEST Tuesday).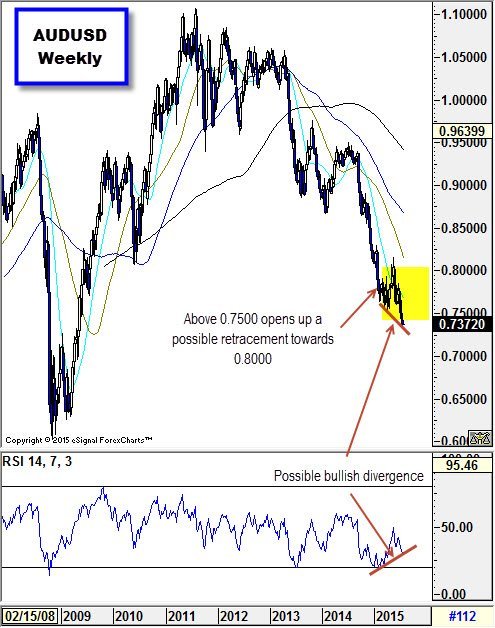 Source: FOREX.com