Despite a lack of market moving events or data releases it has been a very volatile day in FX and commodity markets in Asia. The action began with a huge 4% drop in the price of gold, with XAUUSD reaching its lowest level in over five years. It looks like a combination of heavily selling in China – shortly after the open 5 tonnes was dumped on the Shanghai Gold exchange - and widespread US dollar strength, along with thin conditions due to a market holiday in Japan are to blame for the sudden drop in the gold price.
This sent immediate shock waves through commodity markets, with virtually all precious metals falling victim to the flash crash, and, in turn, commodity-backed currencies and stocks; AUDUSD dropped to a low around 0.7330, NZDUSD briefly broke support around 0.6510 and the ASX was dragged into the red by a sell-off in stocks that were infected by the drop in precious metals (at the time of writing the ASX200 is flat). However, the volatile and unpredictable conditions saw both the aussie and kiwi regain this lost ground later in the session, with the former gaining more ground after NZ PM stated that the kiwi has fallen faster than expected.
XAUUSD
Since peaking in 2011 XAUUSD has dropped around 43%, brining it very close to an all-important psychological support zone around 1,000. Everyone is now asking the same question, is gold going to break $1,000? With hindsight, it's clear that the massive build in the price of gold on the back of the GFC was driven by a need for safe haven assets and a lack of options due to widespread and unconventional monetary policy loosening. Since then the yellow metal has moved towards pre-GFC levels as the market prepares for the beginning of tighter interest rates, particularly in the US, which may see it break 1,000.
From a technical perspective, the recent sell-off has pushed XAUUSD into an arguably more bearish position. There's a bearish head-and-shoulders pattern in price and some techs are suggesting that price may deteriorate further. From here, we're eyeing some support around 1,075/80 and then 1,045. On the upside, price may attempt to break back above prior trend line support (see chart).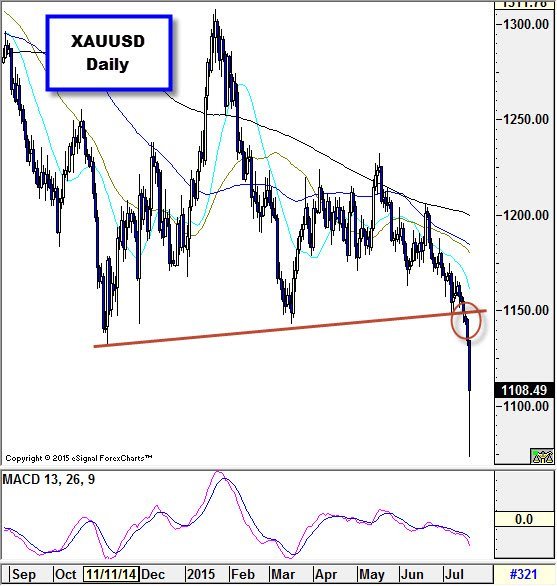 Source: FOREX.com