With the imminent threat of a Grexit dissipating, yield disparities are back in focus and dominating the FX market. This makes currencies with hawkish central bank backing an attractive option for investors, like the GBP. Last week the Bank of England (BOE) entertained the notion of higher interest rates and the market expects it to hike rates by 25 basis points in the next six months. This is in complete contrast to the Australian dollar whose main adversary in the Reserve Bank of Australia (RBA).
RBA Governor Stevens' noted that rate cuts are still on the table and in its latest meeting minutes the RBA stated that a further depreciation of the Australia dollar is both likely and necessary. Despite recent weakness in the commodity currency against the US dollar, it hasn't depreciated nearly as much against a basket of other currencies, despite a continuous sell-off in commodity prices. Also, the RBA has been a massive advocate of a lower exchange rate and it doesn't want to risk sparking a rally in AUD by changing its tune.
The Australian dollar was also hit by mixed inflation numbers. Headline CPI increased 0.7% q/q and 1.5% y/y in Q2, missing expected increases of 0.8% and 1.7% respectively. Core inflation numbers were slightly more encouraging, with trimmed mean and weighted median CPIs increasing 2.2% y/y and 2.4% y/y respectively, but the pace of core inflation growth appears to be waning. However the figures are viewed they leave room for further policy loosening from the RBA if needed to boost domestic demand – the RBA's official inflation target is 2-3%.
GBPAUD heads higher
A divergence of monetary policy between the UK and Australia, as well as some potential further divergence (somewhere between 25-50 basis points of interest rate divergence over the next six months looks to be priced into the market), has helped keep GBPAUD in a broad upward trend since the beginning of May. While the pair is in this trend our overall bias remains higher, although we cannot rule out a push towards the base of this channel in the near-term.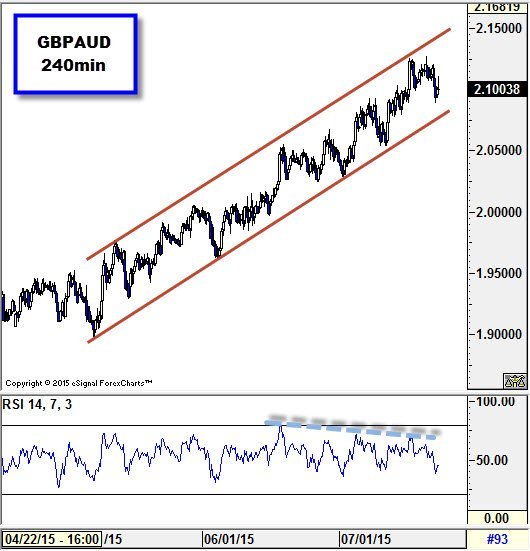 Source: FOREX.com