It has been a horrid start to the week for China's equity markets as the market doubts the ability of Beijing to prevent a rout. The Shanghai Composite recorded its second largest sell-off in history on Monday, despite recent moves from Beijing to prevent such an event from happening. The index fell a staggering 8.5%, its sharpest slide since February 2007 when it fell around 8.8%, as leveraged retail investors fled the volatile market.
The sell-off raises a lot of questions about the ability of Beijing to calm the market. It used everything from conventional monetary policy to actually baring selling by large corporates; the response has also included a ban on short selling and loans to brokerages from the PBoC. However, these measures haven't been as effective as Beijing would have liked and have caused some capital to leave the markets, largely due to the increased risks associated with investing in manipulated markets.
The sell-off continued today, with the Shanghai Composite down over 5% at one stage before briefly crawling its way all the back to the black. Some market commentators are attributing the bounce back to PBoC-backed funds buying big. Yet, there's still a huge amount of leveraged and scared capital in the market which could easily run for the exit once more, despite Beijing's best efforts to prevent it leaving.
From a technical perspective, the Shanghai Composite is nearing support around 2,000, a break of which could see price test this month's low around 1,865. On the upside, there's a lot of room between price action and some resistance around 2,400 and then 2,500. In any event, we're expecting a wild ride for China's equity markets.
Shanghai Composite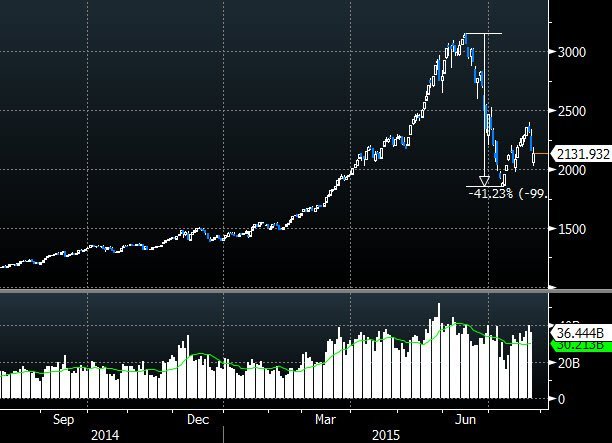 Source: FOREX.com