It's been a quiet overnight session for most major currencies as market participants refrained from placing large trades ahead of today's FOMC meeting. As we noted yesterday, the central bank is unlikely to make any outright changes to monetary policy, but the wording of the accompanying statement could tilt the scales in the hotly-contested "September vs. December" (for the first rate hike) debate.
Heading into the release, USDJPY may be the most important currency pair to watch. The unit rallied sharply off its 100-day moving average near 121.00 earlier this month before stalling out around 124.50 and pulling back over the last week. It's not surprising that the rally lost steam around the 125.00 handle, a level that traders have dubbed the "Kuroda Line."
Much Like France's famed Maginot Line in World War II, a policymaker has built "obstacles" to prevent enemies (USDJPY bulls) from crossing a certain level. Last month, BOJ Governor Kuroda, BOJ member Sato, and Japanese Finance Minister Aso all warned against further yen depreciation in the same day, creating the perception that Japanese policymakers would not tolerate USDJPY trading above 125.00. Based on the price action over the last week, these comments left an indelible scar on the psyche of USDJPY traders, who remain extremely wary of driving USDJPY above the 124.50-125.50 zone.
That said, the longer-term trend in USDJPY remains to the topside, with support emerging near the 100-day MA and rising bullish trend line around the mid-121.00s. Meanwhile, the daily RSI indicator continues to hold above the 40 level, which typically provides support in healthy uptrends. In the short-term, all will hinge on today's FOMC meeting: if the central bank leaves the door open for a potential September rate hike, USDJPY could run back toward the Kuroda Line around 124.50, but it would likely require a strong signal that a September rate hike is likely (unlikely, in our view) to take the pair through this barrier. Meanwhile, a more dovish statement could take the unit back down toward support around 122.00.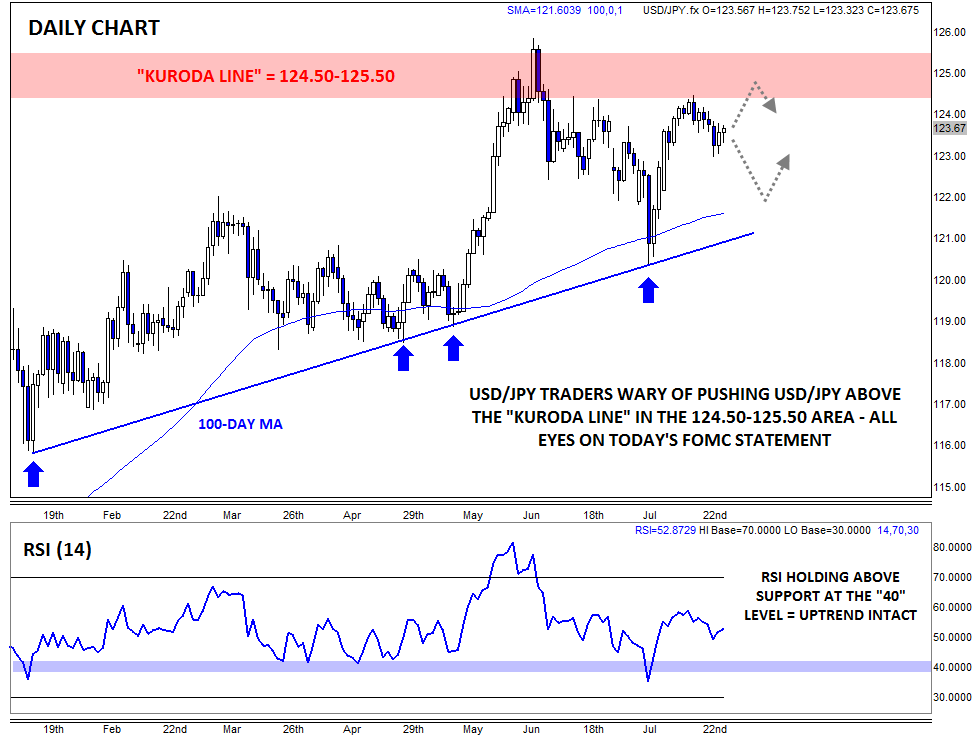 Source: FOREX.com
For more intraday analysis and market updates, follow us on twitter (@MWellerFX and @FOREXcom)