Background:
Traders often refer the impact of 'month end flows' on different currency pairs during the last few days of the month. In essence, these money 'flows' are caused by global fund managers and investors rebalancing their currency exposure based on market movements over the last month. For example, if the value of one country's equity and bond markets increases, these fund managers typically look to sell or hedge their now-elevated exposure to that country's currency and rebalance their risk back to an underperforming country's currency. More severe monthly changes in a country's asset valuations lead to larger portfolio adjustments between different currencies.
In order to predict these flows and how they impact FX traders, we've developed a model that compares monthly changes in the total value of asset markets in various countries. In our model, a relative shift of $400B between countries over the course of a month is seen as the threshold for a meaningful move, whereas monthly changes of less than $400B are often overwhelmed by other fundamental or technical factors. As a final note, the largest impact from month-end flows is typically seen heading into the 11am ET fix (often in the hour from 10 & 11am ET) on the final trading day of the month as portfolio managers scramble to hedge their overall portfolio ahead of the European market close.
Another month is coming to the end, and after all the China- and Greece-related fears of late June and early July, the lower-volatility "dog days" of summer (all due apologies to Southern hemisphere readers) have finally come to the fore over the last couple weeks. Aside for the RBNZ, every G10 central bank has been on hold, and with the US Federal Reserve unlikely to raise interest rates until September at the absolute earliest, another slower month of trade is possible as we roll into August.
When it comes to global asset market performance, stocks put in a mixed performance: US equities were essentially flat (DJIA) or up modestly (S&P 500, Nasdaq), European indices ticked higher (paced by France's CAC 40 index), and Asian bourses declined on fears over China's growth (the Shanghai and Hang Seng markets both declined over 5%). Meanwhile, interest rates fell across the board, with some of the biggest relative rises in bond prices taking place in Germany (-31bps on the 10-year bund yield) and Italy (-32bps).
Though there weren't any truly massive moves, our month-end rebalancing model suggests we could  see a touch of US dollar selling tomorrow. No currency pair reached our /- $400B threshold for a significant move, but dollar selling is projected to be strongest in USDCAD (which is testing an 11-year high near 1.31) and weakest in EURUSD.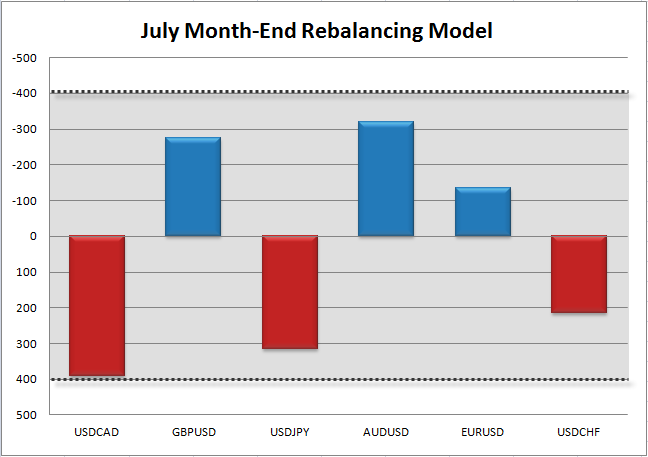 Source: FOREX.com
For more intraday analysis and market updates, follow us on twitter (@MWellerFX and @FOREXcom)