The NZ dollar has been hit by a powerful one-two combination that may have crippled it in the near-term. Overnight, Fonterra released the results from its latest GlobalDairyTrade auction, with prices falling 9.3% since the last auction in mid-July and every sub-index in negative territory or flat. This is the 10th auction in a row that prices have fallen and will likely result in a reduced payout to dairy farmers in NZ which is a major problem for the dairy-backed NZ dollar.
The poor auction results were followed this morning by a softer than expected set of employment numbers from NZ for Q2. Employment growth over the quarter was 0.3%, missing an expected 0.5% increase, and Q1's growth rate was revised lower to 0.6% from 0.7%. The unemployment rate jumped to 5.9% as expected but this was accompanied by a fall in the participation rate in Q2 to 69.3% from 69.6%, missing expectations. The unexpectedly large drop in the pace of employment growth and the fall in participation rate represent the deteriorating health of NZ's once strong labour market. The only positive in this report was an encouraging 1.2% increase in average hourly earnings, which should have a strong positive effect on inflation if wages continues to growth at anywhere near this pace.
NZDUSD
NZDUSD was also hit by some comments from policy makers in the US that reignited talk of an interest rates rise sooner than expected. NZDUSD is now firmly below 0.6600 and the sell-off only stopped once it hit support around 0.6530. Given the given fundamental risks to NZDUSD in near-term our bias remain lower towards 0.6500, a break of which may confirm a bearish head-and-shoulders pattern in price.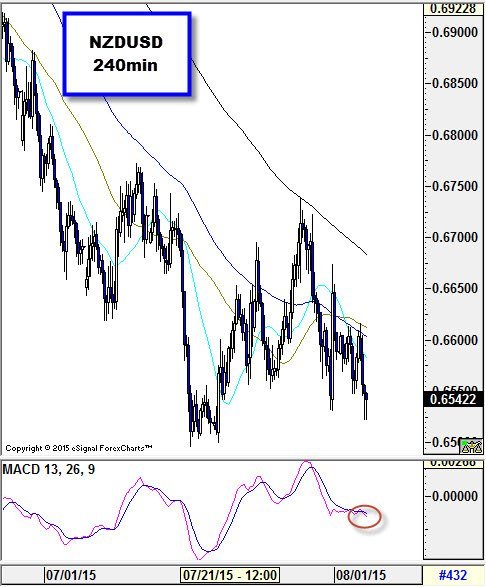 Source: FOREX.com