The Australian dollar been on a high following yesterday's policy meeting at the RBA and some better than expected retail sales numbers. Combined with some widespread weakness in the CAD, the strong aussie his has helped push AUDCAD through its 200-day SMA and important trend line resistance. The pair is now testing further resistance around 0.9750 before a possible attempt at parity, backed by some recent technical bullish signals.
The RBA's less dovish tone and its acceptance of the aussie's new position has put it on the front foot in the last few sessions, although it's retracing some of these gains in Asia. The currency is nervously eyeing the release of Australia's labour report for July (due out on Thursday at 0130GMT).
• Australia's labour market is being closely watched by the RBA as it's a vulnerable part of the Australian economy. So far, slowing immigration has helped keep the unemployment rate at around 6.0%, backed-up by encouraging increases in full-time employment. This time around we're expecting the unemployment rate to rise to 6.1%, underpinned by only a 10K increase in jobs and a stable participation rate of 64.8%. There a few things to watch with this report: whether jobs lost/added are part-time or full-time, with growth in the latter seen as the healthier option; whether or not people are entering or leaving the workforce, judged by the jobs total and the participation rate.
In Canada, the dollar hit a new seven-year low against the US dollar yesterday as weak oil prices and the possibility of further interest rate cuts weighed on the loonie. It remains vulnerable to further falls in the price of oil and traders will also be eyeing Canadian trade (1230GMT on Wednesday) and employment (1230GMT on Friday) numbers for June and July respectively: the trade deficit is expected to narrow slightly to 2.9bn from 3.34bn; the unemployment rate is expected to remain at 6.8%, underpinned by a 5K increase in employment and a 0.1% jump in the participation rate to 65.9%.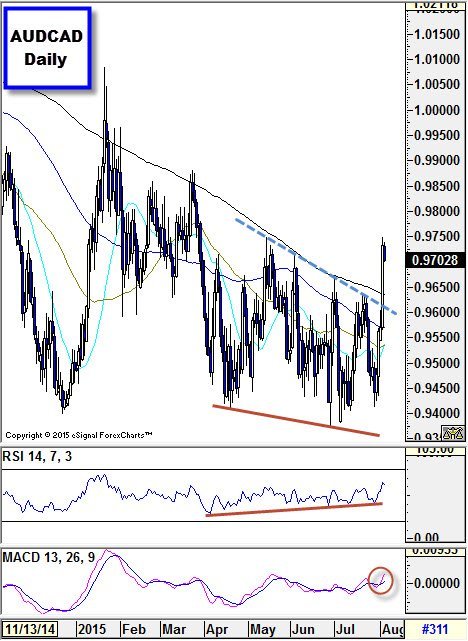 Source: FOREX.com